Tuscan Backsplash Tiles and Kitchen Tile Mural of Tuscany by artist Linda Paul
Beautiful kitchen tile backsplash of Tuscany landscape, wine, grapes, cheese, cobalt blue flowers and arched Tuscan window. Tile murals of Tuscany by American artist Linda Paul. Made in my Colorado art studio
free shipping in USA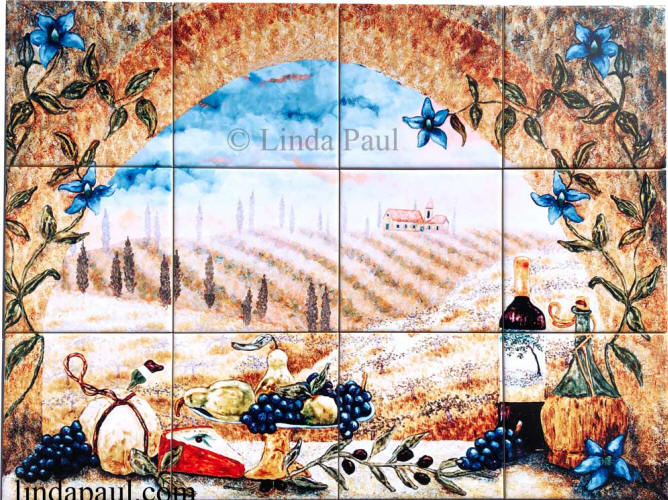 Tuscany Arch by American Artist Linda Paul
Above picture shows 24 x 18" Tuscany Arch
we can add your name to the wine label and wine glasses with your initials see picture (extra $100.00)
6" x 6" x 1/4" ceramic

tiles
Artists inspiration: When I set out to create this artwork, my intention was to capture quintessential Tuscany. My inspiration for the painting was my love of Italy and all things Italian! I love the rolling hills, cypress trees, arches and architecture. My favorite cooking style & restaurants are of course Italian. This kitchen backsplash on tumbled stone is perfect for Tuscan decorating! Artist Linda Paul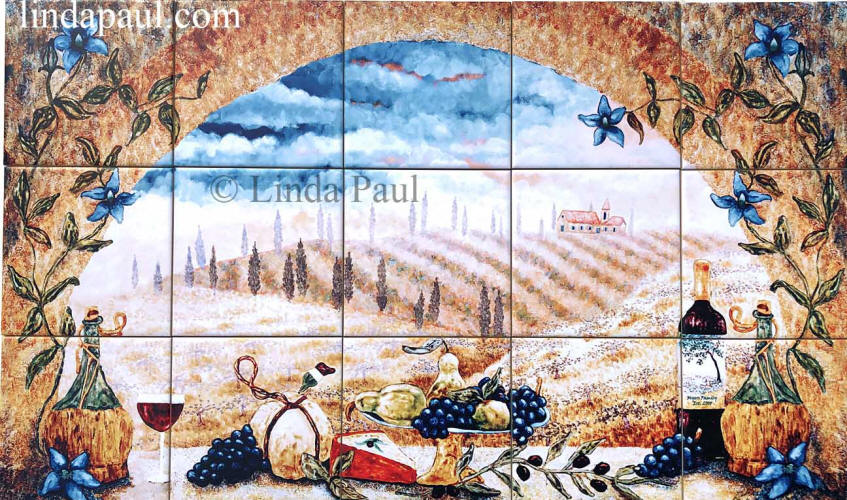 above is 30 x 18" that has been personalized for a customer , extra $100.00 to add your name or anything you want to the wine bottle
Tuscany Arch Extended Version

on 6" x 6" x 1/4" ceramic tiles


Super Extended version 6" x 6" x 3/8" porcelain tiles
Our beautiful murals and accent tiles are made on 1/4" thick ceramic tile


Please contact us for custom sizes or to order your mural or accents on 4.25" x 4.25" tile

more details about tile types, sizes etc

Murals and accent tiles have a satin finish
Accent Tiles 4.25" x 4.25" and 6" x 6" (x 1/4" thick) ceramic tile $50.00 each

Tuscany Arch glass cutting board $49.99 and $69.99
free shipping in US

3/8" thick comes with 4 rubber feet
lead time about 1 week
About our tile murals
and
Installation Instructions for tile murals backsplashes
Dimensions are given as length first, then height.
Don't know What Size to Order?
If you are not sure which size of backsplash mural to order, just email us a straight on picture or design drawing of the space you have for your backsplash and we can tell you which is the best size for your space. Be sure to include all dimensions. We can design the perfect backsplash mural just for you! Artist Linda Paul is an expert in designing her images to fit your space perfectly!
contact our tile design experts or call 303-818-2663 to order or inquire
Our murals ship in approx. 1 to 2 weeks, free shipping in USA see our in stock murals
Featured Tuscan Style kitchen!
Linda Paul's 36" x 24" Tuscany Arch ceramic tile mural in our customer's kitchen with unique stone tile backsplash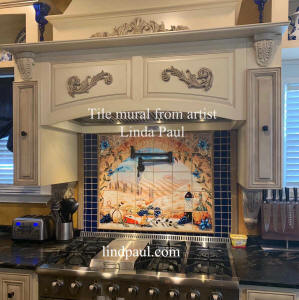 A Little Blue in the Kitchen
This gorgeous kitchen features artist Linda Paul's 36" x 30" Tuscany Arch Tile mural. The 2x2 blue tile accents surrounding the mural make it extra special. The wine bottle label was personalized the client's names. Customer review: "your personalized painting gave us that perfect pop of color we were looking for. Everyone loves it ! Fred and Donnie , Fairhope, AL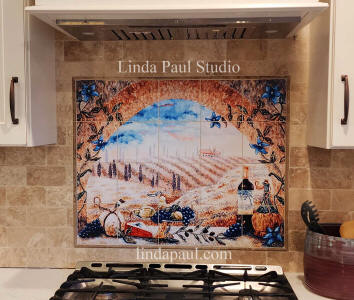 Great installation of or 30 x 24" Tuscany Arch backsplash above stove

Customer review: I wanted to share my lindapaul tile mural installed in my newly renovated kitchen. We are so happy with how it looks! Karen Shafer Henrico, VA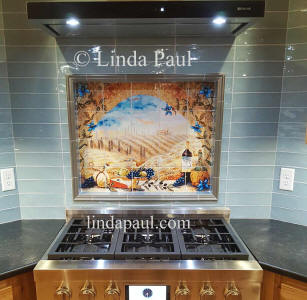 Tuscany Arch tile mural 30 x 24 on 6x6" ceramic tile paired with modern glass tile

review from customer that purchased and installed this mural:
I wanted to send you a photo of our installed tile backsplash for our house we just built in Montana. Looks incredible and we've gotten lots of compliments about the backsplash! Thank you tremendously for the lovely artwork, it adds so much to our home!! Thank you! Liz
Feutrier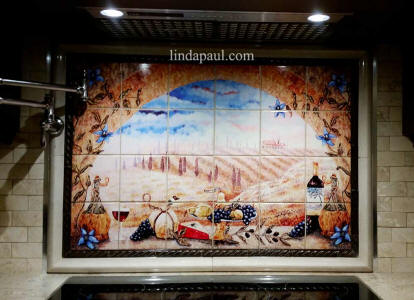 Tuscany Arch on 6x6" Tile.
size is 36" x 24"

Our beautiful porcelain Tuscany Arch is so pretty with the small subway tiles and double border of ceramic and metal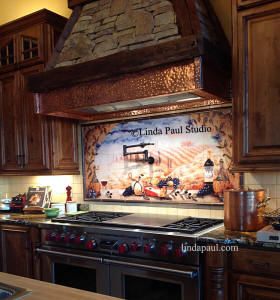 66" x 36" Tuscany Arch marble tile mural in our customer's kitchen.

"Thank you again for such a gorgeous backsplash. Your talent is amazing!
Blessings, Susanne,
Keller, TX "
Customer review
The Tuscany Arch tile backsplash is gorgeous and compliments the decor in the rest of the kitchen. I have received numerous comments on the backsplash on how beautiful the backsplash looks and the high quality of the tiles and positioning. Thanks Linda. Terry B Longmont Colorado


"We just completed our custom built dream home with a gourmet chef's kitchen and your Tuscany Arch mural is at the center piece of our cooking station.  I even had the builder put in a lighted custom designed niche to frame and highlight your mural.  We also have the Tuscany accent tiles which blend in with our backsplash perfectly." Chris and Amy Cho More customer reviews
I can not say enough about this beautiful piece of Art such beautiful colors with great detail.. Could not ask for a better focal point for our kitchen. I have looked at other people's backsplash but I always came back to Linda Paul's knowing someday that I would purchase her backslash and this is worth every penny. Thank you for your beautiful work you have helped our kitchen look amazing. Sue

read more c
ustomer reviews of our tile murals