Original Art Paintings by artist Linda Paul
Buy original art paintings online directly from artist Linda Paul. Gallery features contemporary abstract paintings, landscapes of France Italy and USA. Original art for sale. New works include aspen trees, ocean waves, large flower paintings, minimalist seascape and abstract landscapes.
from

99.00

to $3500.00
Tuscan Village

44" x 24" $1590

sale price $799.00

original painting
Copper Forest
real copper and hand-painted glass art by artist Linda Paul $599.00
(can be used as a backsplash too)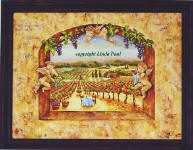 Angels in The Vines
egg tempera painting
$2490.00 44" x 34" Framed Size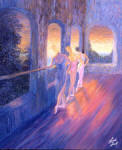 Three Dancers
20" x 24" $1,490.00
egg tempera original painting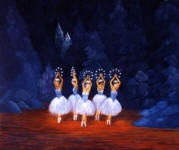 Nutcracker Suite
30.5" x 26.5" $1490.00
egg tempera original painting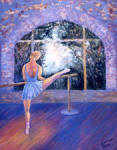 Arianne
13"x17" $890.00
egg tempera original painting
Watch paintings in progress! What is Linda painting right now



Artist Biography
Artists Statement"
When asked 'What is your favorite painting', I always say, 'the next one I am going to paint!"
Favorite question and life philosophy is WHAT IF? I will fearlessly follow even a thread of curiosity when combining mediums or styles. Let process take me on any tangent.. What's the worst thing that could happen? Even what seems to be any ugly painting or a failure will lead to other things that are not. I feel that unless I am prepared to fail, I can not improve and grow.
Style: I don't paint in any one style, I let inspiration speak to me and I go with the flow. My work runs the gamut from chunky realism to abstract and impressionist painting.
I use many different mediums to create my artworks. One of my favorites is egg tempera which I make by crushing stones and minerals and adding egg yolk. Blues come from crushed lapis lazuli, greens from malachite and natural green earth found around Verona Italy. I even use minerals found during hikes in the Rocky Mountains.
I am captivated not only by the purity and naturalness of this medium, but by the science of it. Each pigment has its own set of properties and capabilities that must be explored. How better to express visions of the earth than with earth itself. This medium is luminous and lasts for centuries.
read more about egg tempera
I also make my own acrylic paint in the same manner. By adding pure pigment to a acrylic polymer. I can add thing like crushed mica , metals and pearlescents to make the painting come alive.
Customer reviews:
by

Phyllis Plekavic
"I just wanted to thank you for your lovely paintings. They arrived yesterday and I just opened them this morning. They are even more beautiful than I imagined. Also, the packaging was superb. They are exactly what I wanted. "
by Deborah and Jerry , NC
We received your original painting of Wine & Roses! Your talent is amazing and we love the painting. The colors are extraordinarily beautiful and the sculpturing of the roses make them seem alive!
We recently purchased 3 of your paintings online (2 originals and 1 print) and we are extremely pleased with all of them. The colors are extremely vibrant and add so much character to the rooms in which they hang. The web photos looked great but when the real things arrived, we were overwhelmed by the quality. We're already scouting around the house to see where we can add some additional paintings to bare walls! Diane and Bob Moseley, Arnold, MD "
more customer comments

Why Buy Original art? Some people may ask, "why buy original art when you can buy a nice print". Several reasons, simply put, the original is just far more beautiful. Its also one of a kind. This beauty does not translate as well in the digital world. Another reason is that the original captures the soul of the artist, what the artist is feeling when they are creating the piece can tangibly be felt in an original artwork. Of course the original is far more valuable and usually increases in value. You should buy original art because you love it! It will enrich your life.
Seeing IS believing and we believe you will absolutely love your art purchase from "Linda Paul Studio". 100% money back guarantee if you are not completely enraptured with your purchase."