India Ink Fleur de Lis original Art Painting
Original Fleur de lis paintings by artist Linda Paul

Free shipping in USA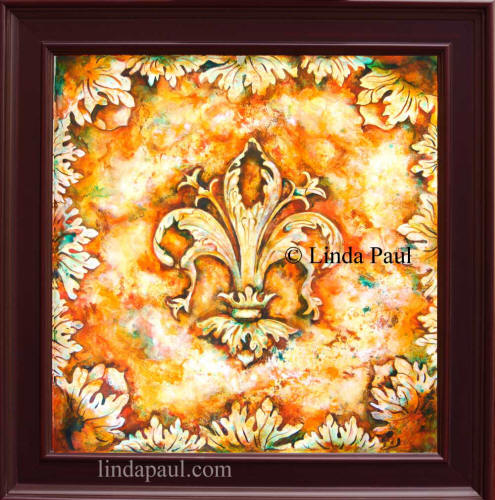 click picture to see large image - copyright info will be appear of the art that you purchase
framed in a 3" dark maroon high quality hand-painted frame
Size 26" x 26"



Artist's Process: I created this work of art using india ink in its pure form on canvas. I let the ink free flow and layered the colors rather than mixing them. After the painting was finished, I mounted the canvas onto a wood panel and framed it.

Meaning of fleur de lis:
The fleur de lis is a stylized lily. Fleur means flower in french and lis means lily. It has long been used in history for everything from decorative ornaments to kings and military insignia. In July 2008 the fleur-de-lis became the official symbol of the state of Louisiana.
actual french translation of fleur de lis is flower of the lily
Dear Linda, The Fleur del lis painting came in today. I really love it. I hung it in my kitchen and it looks so great. You did a wonderful job!
Darlene Comeaux Lake Charles, LA
I received my medallion. BEAUTIFUL! I can't wait to get the tile work done. I will send you some finished pictures. Thank you sooo much!! The fleur de lis is something special to New Orleans, and I am so proud to have it as a centerpiece of my kitchen. Season Flannery, LA "

You can also buy Linda's amazing fleur de lis as a tile mural backsplash or individual accent tile!

It is a great pop of color in this beautiful neutral colored kitchen.

Hi Linda I wanted to thank you for the amazing Fleur de Lis wall piece I ordered from you. I had been searching for years for something to mount above the wall mirror in our very stylish dining room, and your work was the "ticket"!!
Thanks so much, Logan Curtis
read more customer comments and testimonials