Tuscany in the Mist
Egg tempera paintings by American Artist Linda Paul - Size 36" x 18" (on 3/4" board)
This one of a kind painting arrives ready to hang on your wall, It is painted on a board that is 36 x 18 x 3/4". The 3/4" sides are painted pale yellow ocher color. It does not need a frame, however you can frame it later if you wish
This painting was created entirely with natural earth ochres that I collect directly from the ancient ochre mines in Italy and France. I use a beautiful natural golds and greens that come from Italy. It does not get more Italian than that! read more about Egg Tempera
This quintessential Tuscany landscape is found outside Pienza, Italy. Pienza is the most beautiful little Tuscan town, famous for it pungent cheese. Its one of my favorite places and I hope to return there someday.
Questions, comments, or to order email the artist or call toll free 1-800-936-9958 or 303-604-9958 Colorado Shop Online! Free Shipping in USA and to Canada - orders will ship within 5 days - Ship to USA Canada, Europe & overseas (shipping extra)

Here is how this painting was created
It was August and hot in Colorado, I was wishing that I was somewhere cool and misty. Tuscany in the late fall would be nice!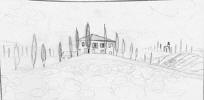 Sketch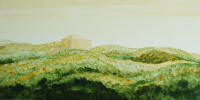 I have started the painting! I am blocking in the color using green and gold natural earth ochres. I decided to make the Italian villa a little smaller that I had in my original sketch. Painting is a process that changes constantly. I have painted the under color of the fields in waves, which will give the finished painting a feeling of movement.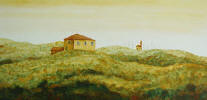 At this stage I am starting to develop the color and add the feature elements such as the Italian Villa and little church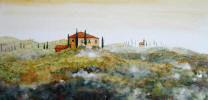 Here I am adding the cypress trees and laying in the mists. Egg tempera is wonderful for creating mist because of its translucent nature. The fact that it dries instantly allows me to layer the mist