Back from the Garden original egg tempera painting by artist Linda Paul
French Country Paintings by Linda Paul. Original bas-relief & egg tempera painting of climbing roses on a garden wall, with shutters, window and wagon in hand-painted fresco frame. Free shipping in USA and to Canada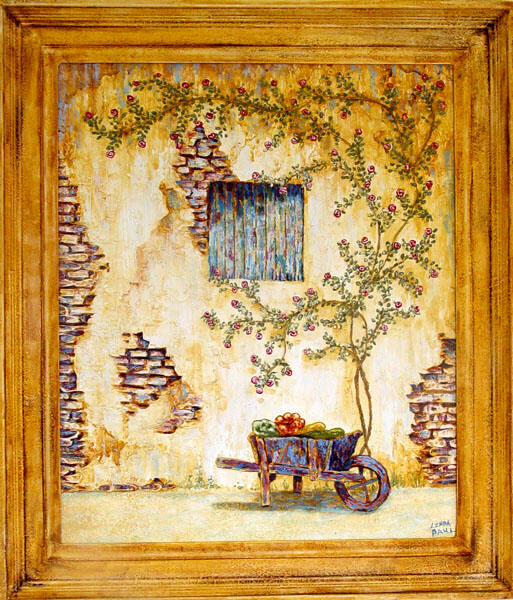 Frame:
Comes with 3" museum quality hand-crafted, solid wood frame. Frame is hand-finished in plaster & egg tempera by the artist & is the same color as the back wall of the painting.

Artist's Inspiration
I am inspired by roses, old walls, windows, door & markets in Mediterranean villages
.
The layers of peeled paint on the wall seem to hold the secrets and the history of the house.
This artwork was first sculpted in Italian bas-relief before being painted in pure egg tempera made from crushed stone & egg yolk. For my ocher colors I use only natural ochers from the French quarries of Gargas and Rustrel, nested in a 12 miles long enclave, in the heart of the Luberon Mountains. The blue color is pure crushed lapis lazuli & the soft greens come from the earth around Verona Italy and from Bavaria.
We received the painting today. We love it! It is, of course, beautiful. Many thanks. Your work is wonderful. It must be awesome to have such a talent. Joel Williamsen Clifton, VA.
more customer comments

Hi Linda: I have just received the series( 3 ) Tuscany original paintings, that you sent. I thought I would take a moment to let you know how pleased I am with them. Having expensive Art shipped to me is always stressfull. Well I sure didn't have to worry this time. Your packing was great. These paintings would have survived a "bomb blast". These are truly a set of exquisite paintings. I have had people comment on how magnificent they are. I believe that is the finest compliment a collector can receive. Your website is a true spokesman for these works of Art. They are beyond what I ever thought. Sincerely, Doug McLean - Calgary Alberta Canada

You also might like these works of art by artist Linda Paul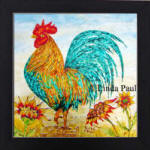 New! Rooster
Painting behind glass 14" x 14" O
riginal french country art by artist Linda Paul
Lotus Flower
original acrylic painting 30" x 30"