New Orleans & Southern Art Paintings of Peppers by artist Linda Paul
Original sculpted egg tempera paintings of peppers, the holy trinity (green pepper, onion and celery) and an ode to mama's southern & cajun cooking!
These are sculptures as well as paintings. All the major elements were sculpted in low relief before being painting in pure egg tempera.
$

299.00
Artists Inspirations: I had a lot of fun creating this original painting. Its an ode to mama's and cooking everywhere. In the south, watch out for those pesky (but pretty) tree frogs and you have to eat some blue crabs. I wrote the verse and it goes:

Mama be cooking on da bayou
Holy trinity & spice for da gumbo
Daddy be fishin in his piroque
Tonight a party and a little zydeco


buy the canvas prints of these painting
s


Each original is 10" x 10". They are painted on 1" thick maple boards with hand-painted sides. These paintings arrive at your door ready to hang and do not need to be framed.
These original works of art are sculptures as well as a paintings! All the elements were sculpted in low relief before being painting in pure egg tempera. This art work was painted in many layers of egg tempera made from natural ground stones and egg yolk. Linda Paul uses lapis lazuli, malachite and ochers from ancient mines in Provence France to make her paint. read more about the French ochre mines
Artists Inspirations:
I once attended the New Orleans School of Cooking. I learned that in southern cooking, peppers, onions & celery are called the holy trinity. Its found in many southern cooking recipes.

buy the canvas print of this painting
How these paintings were created
After the sketches are done, I study them to see if I like the placement of the main elements, I look at positive and the negative space between the elements. Color is barely a thought at this stage. But I find myself being inspired by the colors in a blue crab. Because this series will be sculpted in bas-relief, I have to nail down the placement of the elements because I can not move them once they are sculpted.
2. The Sculpting Process
You also might like these bayou inspired works of art by artist Linda Paul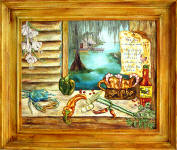 Louisiana Kitchen
25" x 21"
$2150.00

Sale Price: $1490.00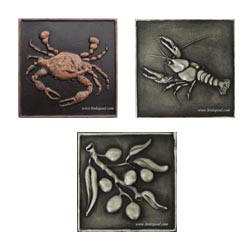 crab and crawfish metal tiles 6x6"
Seeing IS believing and we believe you will absolutely love your art purchase from "Linda Paul Studio". 100% money back guarantee if you are not completely enraptured with your purchase."