Fishing with Picasso - Fish Tiles and Kitchen Backsplash Mural by artist Linda Paul
Picasso inspired contemporary ceramic fish tile mural and accent tiles with a nod to cubism. its perfect for beach house or coastal kitchen backsplashes. In fun beach decor colors of turquoise, orange, green and white
Artist's Inspiration:
I love fishing, bright colors and Picasso!
Questions call 303-818-2663 or email us

free shipping in USA
Square version of Fishing with Picasso

6" x 6" x 1/4" ceramic tiles


Fishing with Picasso 36" x 18" version
on 6" x 6" ceramic tile
$649.00
4.25" x 4.25" and 6" x 6" ceramic $50.00 each (1/4" thick)
Fish tiles can be turned in any direction including diagonal

Our beautiful murals and accent tiles are made on 1/4" thick ceramic tile

Please contact us for custom sizes or to order your mural on 4.25" x 4.25" tile
more details about tile types, sizes etc



Murals and accent tiles have a satin finish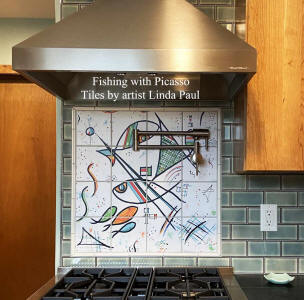 click picture to see larger image
Fabulous installation of Linda Paul's Fishing with Picasso

Customer says, "We LOVE the Picasso mural! Photos cannot do it justice. It is like seeing a Picasso in an art exhibit versus seeing it in a book. Everyone who has come by has the same reaction. Simply stunning! Thank you! Janice"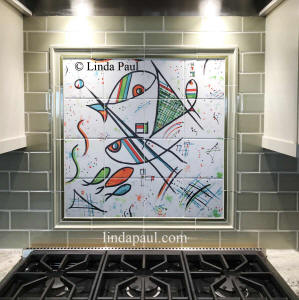 Are you a Picasso in the Kitchen? Maybe not, but this mural will certainly cheer up your space with a nod to cubism and fishies!

Customer who installed this said, "Our Mural is finally in place and looks beautiful!! Like a piece of artwork. Wanted to share with you how beautiful it turned out and say thank you!! Everyone has commented on how incredible it is and that they have never seen anything like it!! Irene Zink, San Diego , CA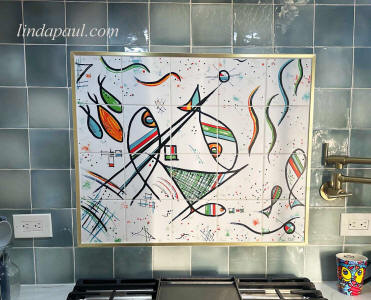 30" x 24" Fishing with Picasso tile mural
Customer review;I wanted to share some pictures of our kitchen mosaic. When our contractor shared the link to the fish mosaic, we were hooked. Modern, fun and vibrant. It also reminds us how much we miss the Caribbean Sea (pisces here raised in PR). Thank you for your beautiful art! Cordially, Jessica (and Francisco)Rodríguez
We can make this in larger sizes just call 303-818-2663 or email us
Dimensions are given as length first, then height.
Don't know What Size to Order?
If you are not sure which size of backsplash mural to order, just email us a straight on picture or design drawing of the space you have for your backsplash and we can tell you which is the best size for your space. Be sure to include all dimensions. We can design the perfect backsplash mural just for you! Artist Linda Paul is an expert in designing her images to fit your space perfectly!
Our murals ship in approx. 1 to 2 weeks, free shipping in USA

you also might like these fish and seashell tiles from Linda Paul Studio