The Olive Garden Tiles and Backsplash Wall Mural by artist Linda Paul
Tile wall mural of a window overlooking an olive garden with olive oil, olive branch, black kalamata olives, sunflowers and a hummingbird that comes to visit your garden window. By American artist Linda Paul.

Made in my Colorado art studio



Artist's Inspirations:

I have been to Italy several times and one of my favorite places are the olive groves. They are incredibly peaceful and beautiful sanctuaries. I am inspired by the old twisted branches and pale silvery leaves of the olive trees. Many of them are very old, they seem to hold secrets and have stories to tell. I love how the wild poppies and flowers grow with abandon underneath, like an sea of life and beauty. One of my artistic trademarks is to juxtapose products of nature against soft impressionist landscapes of their origins. Its nature and her bounty.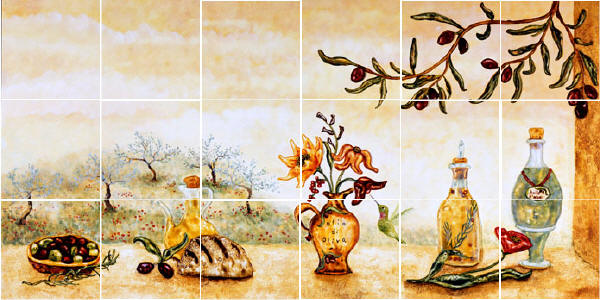 The Olive Garden by American Artist Linda Paul

Price $
499.00
and up
Our beautiful murals and accent tiles are made on 1/4" thick ceramic tile

Please contact us for custom sizes or to order your mural on 4.25" x 4.25" tile
more details about tile types, sizes etc



Murals and accent tiles have a satin finish
Pricing & Online Shopping
6" x 6"

x 1/4" ceramic

tile mural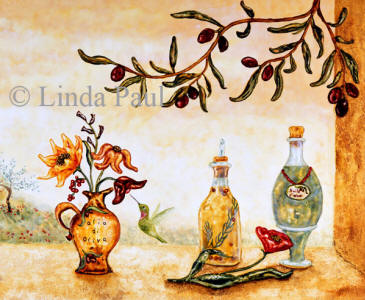 The Olive Garden Version A fits more rectangular spaces
6" x 6"

x 1/4" ceramic

tile mural
Accent Tiles 4.25" x 4.25" and 6" x 6"

(x 1/4"thick) ceramic

tile $50.00 each



Dimensions are given as length first, then height.
Don't know What Size to Order?
If you are not sure which size of backsplash mural to order, just email us a straight on picture or design drawing of the space you have for your backsplash and we can tell you which is the best size for your space. Be sure to include all dimensions. We can design the perfect backsplash mural just for you! Artist Linda Paul is an expert in designing her images to fit your space perfectly!
contact our tile design experts or call 1-800-936-9958 to order or inquire
toll free from USA, Canada, the Caribbean, Alaska or Hawaii

Our murals ship in approx. 2 weeks, free shipping in USA and to Canada see our in stock murals
you can expedite your order
to ship in 1 week for an additional charge of $100.00
just click add to cart
Installation Pictures
Wow! Check out this custom kitchen with our Olive Garden mural backsplash and grape vine border
I
Iove the Olive Garden, its like I have the South of France outside my window! Thank you, it's a great addition to my kitchen. Karolyn
Installation picture is 36" x 18" Olive Garden with
olive border tiles from Tuscan Kitchen
on either side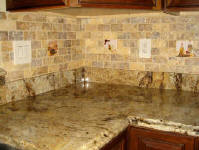 accent tiles inserted into 2"x 4" yellow travertine mosaic tiles create little vignettes of interest.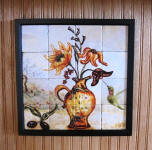 Here is a super simple backsplash idea. You can install our tile murals as a removable backsplash or wall art.
Here's how to do it
you also might like these art and tile products from Linda Paul Studio