Sunflower Field Tile Kitchen Backsplash Mural by artist Linda Paul

Beautiful western tile mural of sunflowers and landscape of sunflower field and mountains by American Artist Linda Paul. Lovingly hand-crafted in Linda's Colorado art studio. Artist's Inspiration: Sunflower Field was inspired by the artist's view out her studio window. In Colorado, sunflowers are wild and full of life. The western Rocky Mountains, in the background, are always inspiring. Its perfect for western or sunflower kitchen decor. Murals from $499.00 and up
6" x 6" 1/4" ceramic tiles
we have a 24" x 18" in stock and ready to ship
Our beautiful murals and accent tiles are made on 1/4" thick ceramic tile

Please contact us for custom sizes or to order your mural or accents on 4.25" x 4.25" tile
more details about tile types, sizes etc



Murals and accent tiles have a satin finish
6" x 6" 1/4" ceramic tiles
6" x 6" 1/4" ceramic tiles
Sunflower Accent Tiles 4.25" x 4.25" and 6" x 6" x 1/4" ceramic tile $50.00 each

We can also do a version without the top arch and/or we can add a hummingbird to any version.

Sunflower Field 24" x 18" no arch $499.00

Sunflower Field 30 x 18 no arch $599.00

Just let us know what size you need and we will make it for you

Dimensions are given as length first, then height.
Don't know What Size to Order?
If you are not sure which size of backsplash mural to order, just email us a straight on picture or design drawing of the space you have for your backsplash and we can tell you which is the best size for your space. Be sure to include all dimensions. We can design the perfect backsplash mural just for you! Artist Linda Paul is an expert in designing her images to fit your space perfectly!
contact our tile design experts 303-818-2663

Our murals ship in approx. 1 to 2 weeks, free shipping in USA and to Canada see our in stock murals
Charming French Country Farmhouse Kitchen with Sunflowers backsplash mural by artist Linda Paul


30" x 24" mural

customer review: "Everyone is amazed at the beauty of your work and the magnificent difference it made to my kitchen. Thank you so very much. I will be referring all of my Family and friends to your site." Vivian Grooms Mills River, North Carolina
French Country Kitchen with Sunflowers and Rooster
size 21.25 x 17 on 4.25" tiles
Sunflowers makes this kitchen a happy place
Sunflower Field by artist Linda Paul. makes this kitchen stove alcove come alive with colors and spirit. Tiles were designed to fit the alcove and the arch was cut onsite to fit
This sunflower tile mural was installed between the stove and the microwave. Size is 30 x 18" on 6x6" ceramic tile with glossy finish. The sunflower decor accessories are a nice homey touch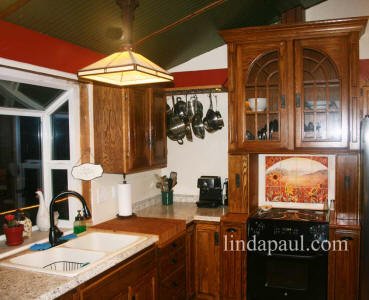 Charming country kitchen with our 24" x 18" Sunflower Filed on 6x6" ceramic tile

Love our Sunflower Tile Design Thanks Kepi and Terry
Redmond, OR July 2017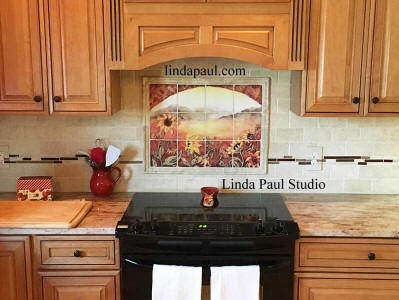 This lovely kitchen features our 24 x 18 Sunflower Field on marble tile.

Our customer who installed it says", I am very happy with how my kitchen turned out, the hardest part was painting the cover plates for the plugs so they would match the glasswork. I love the mural, it goes so well with all the other things in my kitchen. Thank you Linda F, Palmyra, VA
Extended version sunflowers back splash with subway tile and beautiful cabinets and range, This kitchen decor is contemporary and inviting.



"We received and installed the sunflower field tile backsplash and it exceeded our dreams. This stunning piece of art brought dimension and character to our new kitchen. Everyone who has seen it either in pictures or in person is taken with the beauty of it all. I feel so blessed to have stumbled across your fantastic work." Sandy B, Texas
Our Sunflower Field tile backsplash makes this kitchen a happy sunny place. We also love the wheat sheaf carving in the cabinet doors and the glass mosaic tiles surrounding the mural.



Here is what the customer had to say, "We LOVE our kitchen and the mural. We wanted a conversation piece as it faces into our family room too and it met the expectations. " Julie
Read reviews and comments from other customers

We can also customize Sunflower Field back splash to fit longer, narrower spaces or create an continuous pattern in
any
length.

Your tile mural was the perfect final touch on our smaller simple kitchen. It fits our house perfectly.... Thanks  Stephen & Christine Perreault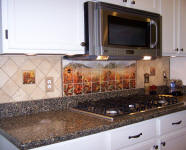 you also might like these sunflower art and tile products from Linda Paul Studio