Handmade, hand painted glass tile art of Sunflowers and Bee
Glass Tile Backsplash art by American artist Linda Paul
Sunflowers and Bee glass tile art . Hand-painted hand-made glass tile backsplash art by artist Linda Paul

Size: 12" x 12" (x 7/16" thick) (glass is 1/4" thick then there is a 1/8" board attached to the back

Price $599.00
with free shipping in USA

This beautiful original handmade glass tile backsplash artwork is hand painted with reflective, sparkly shards behind 1/4" glass. The glass is then backed with a protective backer board. The art is completely protected and the artwork of the tiles catches and reflects the light beautifully. Just glue to your backsplash wall and tile around or Linda can frame it for your in a black metal frame (extra $100.00) to hang as ready to hang backsplash art.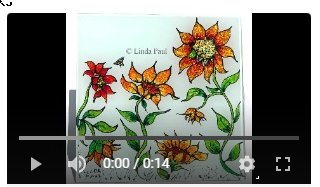 watch 14 second video of how this art sparkles with the light
Sunflower hand-painted glass accent tile in red, orange yellow green, black and white 6x6" x 1/4" depth. Very pretty and sparkely. Install directly in your backsplash between other tiles
Works as horizontal or diagonal orientation (by rotating 45 degrees)

There is a protective board on the back of the glass Size 6" x 6" x 1/4" depth
$99.95
1 in stock , you can order more, then lead time is about 2 weeks
Artist's Inspiration: I love sunflowers. They are the epitomy of joy and optimism and they turn to face the sun instead of the shadows. artist Linda Paul



You also might like these glass tiles from artist Linda Paul


Artist owns the copyright of all artworks displayed. Use of artwork is prohibited without written permission from the artist.