New! Bespoke handmade, hand painted glass tile art of red poppies, hummingbird butterfly, dragonfly and bee
Italian Style Backsplash Glass Tile mural and accent tiles by American artist Linda Paul
Questions call 303-818-2663 or email us
Beautiful , sparkling hand painted tile backsplash mural with red poppies, hummingbird, dragonfly, butterfly and bee with blue/green Italian inspired decorative border by American artist Linda Paul. Matching art nouveau decorative accent tiles too. Its perfect for Italian kitchen decor. This is an original , one of a kind work of art. Made in my Colorado , USA by artist Linda Paul.
Size 12" x 18" on 6" x 6" beveled glass tile. 2 matching 6x6 accents too

Hummingbird, Red Poppies and Dragonfly hand painted glass tile backsplash art

Size: 18" x 12" (x 3/8" thick) beveled glass tile

3 tiles long and 2 tiles high, shipped as individual tiles.
Price $699.00 with free shipping

This beautiful original handmade tile backsplash and 2 matching accents tiles (below) are hand painted and embellished with reflective shards behind beveled glass. The glass is then backed with a protective backer board. The art is completely protected and the artwork of the tiles catches and reflects the light beautifully. Just insert these glass tiles between other tiles in your backsplash.
Matching Art Nouveau Poppy and Hummingbird or dragonfly hand painted tiles - 6" x 6" x 1/4" $129.00 each. These handmade tiles catch and reflect light amazingly. Must be seen in person to truly appreciate their bespoke nature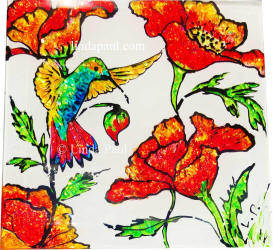 Hummingbird Red Poppies hand painted glass tile accent
6" x 6" (x 3/8" thick) beveled glass tile
Price $129.00 free shipping

contact the artist or call 1-303-818-2663 to order or inquire

free shipping in USA and to Canada

You also might like these decorative glass art tiles from artist Linda Paul