Louisiana Kitchen
Shipping is free in Continental USA and Canada.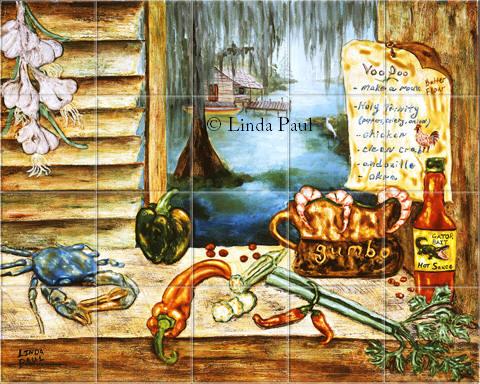 we can remove the word "VooDoo" or change it to "To Do" by request (free)
We can also add your name to the shopping list or hot sauce bottle! Extra $100.00 see picture
Pricing & Online Shopping
| | |
| --- | --- |
| 4" x 4" tumbled marble tiles | 6" x 6"tumbled marble tiles |
| | |
Dimensions are given as length first, then height A note on sizes: 4x4" marble tiles actually measure 3-7/8" and 6x6" marble tiles measure 5-7/8". The listed sizes allows for grouting. If you push the tiles tight together the murals will measure slightly less than the listed sizes. For example a 30" x 24" mural actually measures 29-3/8" x 23.5" if the tiles are placed tight together.

Custom Tile Murals: We can create a custom mural to fit your individual space. Just give us the length and height of the space you have for your mural, and we will email you a quote with pictures to show exactly what your mural will look like. We use either 4" x 4" or 6" x 6" tiles, so your measurements should fit dimensions using either of these tile sizes.
Don't know What Size to Order? If you are not sure which size of backsplash mural to order, just email us a straight on picture or design drawing of the space you have for your backsplash and we can tell you which is the best size for your space. Be sure to include all dimensions.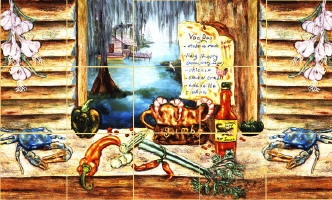 Louisiana Kitchen extended version
| | |
| --- | --- |
| 4" x 4" tumbled marble tiles | 6" x 6"tumbled marble tiles |
| | |

Louisiana Cajun Kitchen Decorative Accent Tiles: 4" x 4" or 6" x 6" $35 each
Lou-5 and Lou-13 tiles can be personalized with your name (extra $100.00)


Lou-3
mama's cooking



Lou-4
pepper tango accent



Lou-5
hot sauce & gumbo


Lou-9
Louisiana bayou



Lou-10
ibis bird tile



Lou-12
gumbo & shrimp tile

| | |
| --- | --- |
| | You can also order just the bayou part of the Louisiana Kitchen mural. Just contact us to enquire |



We can also add your name to the shopping list or hot sauce bottle! Extra $100.00

click picture to see larger image
We can design the perfect mural just for you! Artist Linda Paul is an expert in designing her images to fit your space perfectly!
Tile sizes used for murals & backsplashes are:
4" x 4" or 6" x 6" (x 3/8") tumbled stone marble

Our murals ship in approx. 4 weeks, free shipping
accent tiles ship in two weeks (3 days if they are in stock)
see our in stock murals that ship in 3 days




Customer reviews:
Hey Linda, I installed your Louisiana Backsplash and love it. Great comments from all who enter our new addition. What's more appropriate then "A TASTE OF LOUISIANA". Your work is beautiful. Bonjour Mes Amis. (Good day my friends). Thanks again, Anita Brouillette , Pineville, LA


Picture (left) shows Louisiana kitchen mural with rope border and and accent tiles set in tumbled stone tile





Linda Paul's cajun art is a perfect focal point with this 6 burner AGA red range.
Love the idea of having the microwave in the corner. Very convenient



| | | |
| --- | --- | --- |
| | 24" x 18" size on 6x6" marble tile | |
Our Italian tumbled stone murals come with a satin/matte finish.

Our tile murals are easy to clean with soap and water and are designed to be used as kitchen backsplashes and behind stoves and ranges.
email our tile design experts or call 1-800-936-9958 to order or inquire
toll free from USA, Canada, the Caribbean, Alaska or Hawaii
You can add a frame to any of our 4x4" or 6x6" accent tiles and hang them as wall art
buy frames
you can expedite your order to ship in 2 weeks for an additional charge of $100.00
just click add to cart

"Dear Linda, The tiles were more Louisiana expressive and soothing to the gumbo soul than on line. This arrangement will be placed behind the sink with white and cobalt tiles, fleur de lis at the corner of the doors. Thank you so much for bringing the Cajun theme home. Best to you, Jackie Bell"

Read reviews and comments from other customers who purchased a kitchen backsplash mural. "Our cajun backsplash is so beautiful! The actual tiles were even more gorgeous that the photos (online). Everyone thinks it's a riot that we have a cajun backsplash since we live in Scottsdale. But - we are from Louisiana and enjoy expressing our southern flair! "
Thanks again, Sherry Robbins
Request a Sample! email us to request a mini paper sample (3" x 2"). Please include name of the artwork, your name, address and phone #. USA only . The paper samples are very close in color to the tiles , but not exact. If you wish an exact color match, we suggest you order an accent tile.

About our tumbled stone tile murals & kitchen backsplashes

your also might like these other Louisiana Inspired artworks by artist Linda Paul


Primary Colors Fleur de lis
12" x 16" $299.00
30" x 30" on sale $599.00
acrylic abstract original painting


Crab Shack on the Bayou
Original framed Painting $299.00
Crab shack on the Bayou
17" x 15" original painting
framed in gold frame $299


You can also buy Louisiana Kitchen as a canvas print or the original painting