Free Shipping in USA


to order or inquire 800-936-9958
Italian Kitchen Window Tile Mural by artist Linda Paul
Beautiful Italian tile backsplash mural of a kitchen window featuring a still life of olive tiles, grapes, bread, cheese, garlic, olive oil, olives, rosemary, lemons and a hummingbird by American artist Linda Paul. Matching decorative accent tile too. Its perfect for Italian kitchen decor.

This mural backsplash combines my Tuscan Kitchen Tapenade and elements from my Olive Garden backsplash. Made in my Colorado art studio
Artists Inspiration: My inspiration for this Italian style artwork is my love of Italy & all things Italian! I am inspired by the rolling hills of Tuscany, windows, arches and architecture and of course Italian food. This Italian backsplash on tumbled stone is perfect for Tuscany kitchen decor! Artist Linda Paul.

Italian Kitchen Window by American Artist Linda Paul
Price

399.00

and up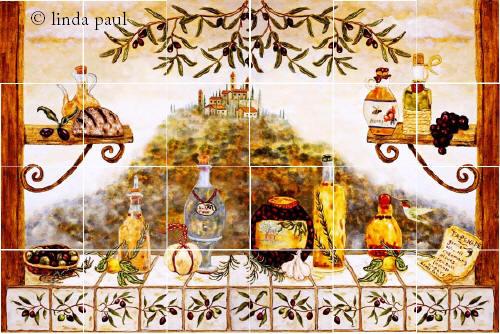 we can customize the label on the Olive Jar with your name. Extra $100.00 see below

Pricing & Online Shopping
| | |
| --- | --- |
| 4" x 4" tumbled marble tiles | 6" x 6"tumbled marble tiles |
| | |
Italian Kitchen Window with Extended Sky and Olive Branch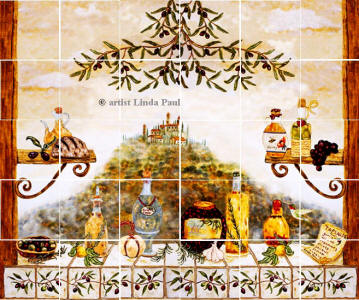 we can customize the label on the Olive Jar with your name. Extra $100.00 see below


| | |
| --- | --- |
| 4" x 4" tumbled marble tiles | 6" x 6"tumbled marble tiles |
| | |
Accent Tiles: 4" x 4" or 6" x 6" tumbled marble stone $40 each


TOG-3
Olive Oil & Bread



TOG-4
Olives & Rosemary



TOG-5
Olive Trees



TKT-3
olive oil and lemon



TKT-4
hummingbird



TKT-5
tapenade recipe



Olive branch border (4" or 6" tumbled stone)
The branch runs continuously through the tiles. You can special order the continuous olive vine border tiles in any length you need


or individual 4x4" or 6x6" Olive tiles $40.00 each
The branch does not run through the tiles

| | | | | | |
| --- | --- | --- | --- | --- | --- |
| TKT-11 | TKT-12 | TKT-13 | TKT-14 | TKT-15 | TKT-16 |
Customize labels with your name or anything you like

We can personalize the Olive jar or any of the bottle items in the mural with your name or restaurant or whatever you would like. Extra $100.00. see sample in picture to the left
Just contact us for more info

Dimensions are given as length first, then height A note on sizes: 4x4" marble tiles actually measure 3-7/8" and 6x6" marble tiles measure 5-7/8". The listed sizes allows for grouting. If you push the tiles tight together the murals will measure slightly less than the listed sizes. For example a 30" x 24" mural actually measures 29-3/8" x 23.5" if the tiles are placed tight together.

Don't know What Size to Order? If you are not sure which size of backsplash mural to order, just email us a straight on picture or design drawing of the space you have for your backsplash and we can tell you which is the best size for your space. Be sure to include all dimensions. We can design the perfect backsplash mural just for you! Artist Linda Paul is an expert in designing her images to fit your space perfectly!

email our tile design experts or call 1-800-936-9958 to order or inquire
toll free from USA, Canada, the Caribbean, Alaska or Hawaii
Tile sizes used for murals & backsplashes are: 4" x 4" or 6" x 6" (x 3/8") tumbled stone marble



Our murals ship in approx. 4 weeks, free shipping see our in stock murals
you can expedite your order to ship in 2 weeks for an additional charge of $100.00
just click add to cart


custom 60 x 42" mural
Customer review:
"After reviewing several artists work we chose Linda Paulís Italian Kitchen Window to replace an existing wallpaper cooking area backsplash. The size requirements were not an issue as Linda was able to customize to meet our needs. To say that we are pleased with the result would be a dramatic understatement.

The result exceeded our high expectations and t

he Italian Kitchen Window is now the centerpiece of our beautiful kitchen." Tom & Lynda Mays Hilton Head Island, S.C.



The extended sky or square version is great when you need a taller mural or if you are planning to cut an arch or fit an existing arch in your space (see arch cut from mural in picture to the left)
We wanted to let you know that we received our mural and are so pleased. The mural came on Thursday as promised and we put it up on Saturday. We decided not to grout and we are very pleased the way it came out. We think the mural is absolutely beautiful and the changes we made were just perfect. Your colors are so vivid and we can't thank you enough for the special beauty it has added to our new kitchen. We find our selves standing in front of it, just staring!! Thanks so much for you help in making this mural a total focal point for our kitchen.

Clay & Ginger Winger

- Surprise, AZ



More reviews and comments

from customers who purchased a kitchen backsplash mural from Linda Paul Studio
Our 24" x 16" Italian Kitchen mural backsplash shown in our Chateau grape custom mosaic frame

Outer dimension of frame is 31" x 24". Inner dimension of frame is 23" x 16"
Price for 24" x 16" mural $399.00. frame is $1395.00

If you press the 24" x 16" mural tiles tight together it actually measures 23-5/8" x 15-3/4", so you just have to cut a bit of the arch at the top with a wet saw and it will fit perfectly without spacing
go to Chateau Grapevine mosaic tile frame

This 60" x 42" custom mural
was installed in this remodeled kitchen.
The tiles were cut into an arch at the top by
the customer to fit existing black tile. Installing two stove tops instead of a large one is a great idea from both an economic and functional standpoint.

A timeless kitchen design with Italian flair. The major elements like the Thomasville cabinets and countertop are neutral and classic
Our Italian Kitchen mural backsplash is the focal point of this kitchen's decor . The rest of the backsplash tile is a tumbled marble Noce See how it runs in two directions , diagonal and straight. This is a

size 36" x 24" size on 6x6" marble


This installation shows the extended sky and olive branch version of our Italian Kitchen mural
Size 30" x 30"






Close up of mural . This picture really shows the beauty of our marble tiles. The mural tiles are pushed tight together with no grout.


size 36" x 24" on 6x6" marble


24 x 16 Italian Kitchen mural with
tumbled marble subway tile
| | | |
| --- | --- | --- |
| 24" x 18" on 6x6" marble tile | picture shows 36 x 24 version of Italian Kitchen Window on 4x4"marble stone tile . The customer used our individual TKT accent tiles on the diagonal the the back splash | Our mural with stone subway tile, dark cherry cabinets |