Tuscan Kitchen Tapenade
Shipping is free in Continental USA and Canada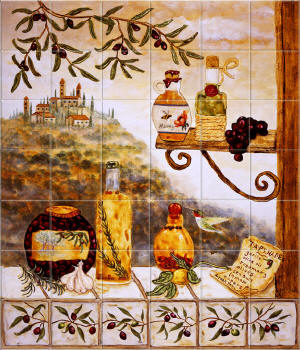 Pricing & Online Shopping
| | |
| --- | --- |
| 4" x 4" tumbled marble tiles | 6" x 6"tumbled marble tiles |
| | |
Dimensions are given as length first, then height A note on sizes: 4x4" marble tiles actually measure 3-7/8" and 6x6" marble tiles measure 5-7/8". The listed sizes allows for grouting. If you push the tiles tight together the murals will measure slightly less than the listed sizes. For example a 30" x 24" mural actually measures 29-3/8" x 23.5" if the tiles are placed tight together.

Custom Tile Murals: We can also design a custom backsplash mural to fit your individual space. Just give us the length and height of the space you have for your mural, and we will email you a quote with pictures to show exactly what your mural will look like. We use either 4" x 4" or 6" x 6" tiles, so your measurements should fit dimensions using either of these tile sizes.
Don't know What Size to Order? If you are not sure which size of backsplash mural to order, just email us a straight on picture or design drawing of the space you have for your backsplash and we can tell you which is the best size for your space. Be sure to include all dimensions.

Here is another design if you need Tuscan Kitchen as a horizontal mural
"Tuscan Kitchen - Olive Vine Sides" ( also see Italian Kitchen version)
| | |
| --- | --- |
| 4" x 4" tumbled marble tiles | 6" x 6"tumbled marble tiles |
| | |

Tuscan Accent Tiles
Accent tiles: 4" x 4" or 6" x 6" $40.00 each

TKT-3
olive oil and lemon



TKT-4
hummingbird



TKT-5
tapenade recipe


TKT-8
Tuscan hill town


TOG-6
Hummingbird


HM-1
hummingbird and poppy

You can add a frame to any of our 4x4" or 6x6" accent tiles and hang them as wall art
buy frames
Olive branch decorative border tiles of black & green olives !
You can order the entire border of 6 tiles with the branch (vine) or you can order the tiles individually


Olive branch border (4" or 6" tumbled stone)
The branch runs continuously through the tiles
You can special order the continuous olive vine border tiles in any length you need
Individual tiles (below) The branch does not run through the tiles.
4" or 6" tumbled stone $40.00 each
| | | | | | |
| --- | --- | --- | --- | --- | --- |
| TKT-11 | TKT-12 | TKT-13 | TKT-14 | TKT-15 | TKT-16 |

We can design the perfect mural just for you! Artist Linda Paul is an expert in designing her images to fit your space perfectly!
Featured Kitchen Backsplash Idea

Check out this picture that our customer sent in. Its our 24" x 30" Tuscan Kitchen back splash mural in a gorgeous cherry kitchen with amazing

Barricato

granite island that was chosen to match the color in the mural.


| | |
| --- | --- |
| | We are absolutely so happy with it. It is such a beautiful feature in our kitchen and we receive compliments on it all of the time. As a matter of fact, the interior decorator we worked with loved it so much she purchased the same mural for her own kitchen. Deb DeGregorio |




Here is our Tuscan Kitchen tapenade mural installed with mini subway tiles in the backsplash. I love how the mural fits the proportions of the space perfectly. Its always a good idea to match the color of the mural border to the rest of the backsplash tile.


see more kitchen backsplash ideas and installations


"The mural looks beautiful, we absolutely love it. We are very happy with our new kitchen!
Alain and Andrea Mowad"


A spectacular kitchen backsplash idea that creates the perfect Italian kitchen. See how the tile design incorporates the 3x6 subway tile next to the counter, then 6x6 tiles above.


Tuscan design 24" x 30" Size

Click pictures to see larger images


| | | |
| --- | --- | --- |
| A kitchen does not have to be big to be beautiful. Our mural makes this modern hood and small cooktop so special. | Here is a square version of my Tuscan Kitchen. See how the accent tiles were installed into the diagonal backsplash tile | Fabulous installation of this mural with the modern hood and mosaic tiles in the backsplash. Notice the field tiles are offset |
| | | |
| --- | --- | --- |
| | Gorgeous tuscan kitchen backsplash design. Notice the copper on the ceiling. Fabulous! | |

shows entire kitchen design. I love white kitchens!





close up of arched backsplash area and mural

click pictures to see larger images



Beautiful installation of our mural in this gorgeous Tuscany inspired kitchen. The arch above the cooktop and the round kitchen island are great design ideas
Tile sizes used for murals & backsplashes are:
4" x 4" or 6" x 6" (x 3/8") tumbled stone marble

Our murals ship in approx. 4 weeks, free shipping
accent tiles ship in two weeks (sooner if they are in stock)
see our in stock murals that ship quickly
you can expedite your order to ship in 2 weeks for an additional charge of $100.00
just click add to cart

Our tumbled stone murals come with a satin/matte finish.

Our tile murals are easy to clean with soap & water and are designed to be used as kitchen backsplashes & behind stoves & ranges.
email our tile design experts or call 1-800-936-9958 to order or inquire
toll free from USA, Canada, the Caribbean, Alaska or Hawaii
"We would like to thank you for the fabulous art work, which has finished off our new kitchen in style. Everyone who has seen the mural thinks it is indeed like looking through a window on Tuscany. We would probably run out of superlatives, but the mural is rich, sumptuous, a feast for the eyes - and we find something interesting to focus on each time we step into the kitchen. Your service from ordering, through packing to delivery was exemplary. We would absolutely recommend your work to anyone considering it."Pauline and Mel Owen, Newcastle upon Tyne, England

"We absolutely love our, "Tuscan Kitchen Tapenade" tile mural. My husband and I knew it was going to be fantastic when we saw the photos on your website, but when we saw the tiles in person we were blown away! The colors are absolutely amazing. Every day when I make my way to the kitchen I appreciate my beautiful mural. I can hardly wait to remodel our living room so that I can pick out one of your large canvas prints. Thank you so much! Mike and Lisa White, Los Gatos, CA " Read more reviews and comments

Shop Online!