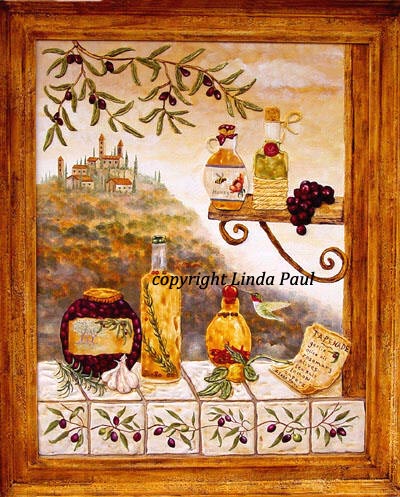 copyright info will not appear on the art that you buy
Click here for Canvas prints of Tuscan Kitchen
Free shipping on all paintings to USA and Canada
This original painting is one of a kind. It has incredible texture! Major items in this Tuscany painting, ( olive tiles, olives, bottles, garlic, lemon branch, recipe etc.) were first sculpted in low relief of about 1/8" before being painted in pure egg tempera. Linda Paul makes her own paint from fascinating natural minerals such as ancient ochers and semi-precious stones like malachite & lapis lazuli. The natural ochers in all Linda Paul's paintings of Tuscany are collected from the ancient ocher mines in France & Italy.

Using crushed stone to make my paint pigments makes the artwork incredibly luminous and alive. An original work encompasses the soul of the artist and it can be felt when you see this work of art in person.
Questions, comments, or to order email the artist or call toll free 1-800-936-9958 or 303-604-9958 Colorado Shop Online! Free Shipping in USA and Canada - orders will ship within 3 -5 days

Black Olive Tapenade Recipe
(courtesy Kathy's Kitchen, NY)
3/4 pound pitted black olives, such as Kalamata, Nicoise, or Gaeta
3 to 4 ounces capers, drained & rinsed
2 anchovy fillets, drained, rinsed & patted dry
2 cloves garlic, minced
1 teaspoon Dijon mustard
1 fresh bay leaf, finely chopped
5 sprigs fresh thyme, leaves finely chopped
3 tablespoons chopped parsley
1/4 teaspoon crushed red pepper
1/2 lemon, juiced
1 teaspoon red wine vinegar
1 tablespoon cognac or brandy
1/2 cup good quality extra-virgin olive oil
Combine all ingredients in the bowl of a food processor and pulse to combine well, then allow to process until mixture is coarsely pureed. Taste for seasoning, then serve as a dip alongside crusty bread with goat cheese, grilled vegetables or chicken, or tossed with cooked pasta and fresh herbs.
Artist's Inspirations:
My husband and I love to travel to Tuscany! I am fascinated and inspired by the incredible culinary delights. As an appetizer we love to have black olive tapenade with bread and a nice glass of wine. The little recipe in the corner of the painting gives you a shopping list so you can make your own tapenade. see full recipe below
Frame:
Tuscan Kitchen Tapenade is framed in a 3" museum quality hand-crafted, solid wood frame. Frame is hand-finished in a lightly textured plaster & egg tempera by the artist. It is the same color as the wood edge of the window in the painting




side view of framed painting



also from Linda Paul Studio - check out our Tuscan kitchen backsplash tile murals


The Vineyard

more customer Comments
Your three original paintings (Everything Tuscany, Italian Still Life and Stairway to Heaven) have just arrived. They are truly beautiful! Your ability and passion for what you do comes through in your work. I can see why you referred to the paintings as "your children" since they are your creations and demonstrate your dedication and commitment as an artist. Georgiana and I consider ourselves very fortunate to have been introduced to your work on the internet and look forward to displaying the paintings in our home. Sincerely, Tom and Georgiana Castellani, Ridgefield, Ct