Kitchen Backsplash Ideas, Pictures and Designs
You are on page 3 more designs and ideas on
page 1
page 2
page 4
Questions call 303-818-2663 or email us
Simple and elegant back splash idea


This beautiful kitchen backsplash picture shows 2 of our Vienna grape borderless accents set on tumbled stone in a diagonal pattern and bordered by travertine pencil style borders. Its a fabulous style that mixes contemporary with classic traditional design.


Copper in the Kitchen
Love this studded copper hood with our Ravenna Backsplash medallion in copper high polish with blackened background. Mosaic stone colors are S3 Light travertine and S5 Noche
A Kitchen backsplash stunner!

Medallion with our 5 fleur de lis design center accent and studded brackets. Its a wow!

More info
Gorgeous Mediterranean Style Kitchen Backsplash Idea


Backsplash picture (left)shows installation of our
Celeste Arched Medallion
in this custom kitchen in Marietta , GA. The customer used 3 x 6 Jerusalem Gold brick shaped kitchen backsplash tile to surround the medallion The hood is a custom Tuscan Stone Mantel
Sea Life Tile Mural for Ocean themed or Coastal kitchens

This white subway tile kitchen backsplash combines Linda Paul's
mermaid
and
seahorse tiles
to make a mural
Need kitchen backsplash ideas on a budget?


Just a few decorative accent tiles placed in your back splash can change it from ordinary to fabulous!
The 2 x 4 travertine subway field tile allows for a perfect insert of our 4x4 accent tiles

see all Linda Paul Accent tiles
Our Rooster mini medallion takes center stage in this marble backsplash!
It is paired with our matching copper fine rope liner and then bordered by the customers marble chair rail and marble tile. Simple and beautiful!
A little Monet in the Kitchen

Linda Paul's hand painted glass tile centerpiece of Monet's garden in a customers kitchen . Installed with a grey border and subway tile. Love the blue and green glass cabinets pulls too

buy Linda's Monet's Garden ceramic tile mural

Customer review: We wanted a kitchen backsplash accent piece that was extraordinary and that we could enjoy looking at every day. Linda Paul's back painted glass interpretation of Claude Monet's "Water Lily Pond" was perfect for our lake house. It not only is artistically pleasing; it is well engineered for an everlasting; in subway tile installation. We are very pleased with Linda's work and this wonderful piece is the highlight of our kitchen. Brooks and Beth Yeilding, Salem , AL
This picture shows our Vineyard mural in a classic white kitchen.
& Its really nice how the decorative moulding on top of the cabinets turns the corner (on the right side) and continues along

Here is what the customer who purchased and installed this mural said, "
It's like looking through a window to another place and time."
Loretta, Portmouth, OH
Traditional Kitchen with a pop of color

with our 36" x 24" Olive Garden mural backsplash

Customer who bought and installed this says, "My wife is so happy and loves it. Aram, Montrose, CA
Clean and Classic

This picture shows our Ravenna plaque in bronze high polish and blackened background. It is surrounded by smaller mosaic tiles and then another metal border and nice polished travertine subway tiles. Its a timeless look
After Picture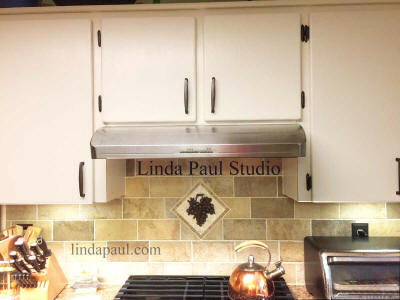 After some paint and hardware on the cabinets, and a grapes mini medallion from artist Linda Paul surrounded by some large subway tile. Voila! Simple and beautiful
Three Ducks tile mural for French Country or Modern Farmhouse Decor

Get Quacking with this french country farmhouse tile mural from artist Linda Paul. Have sign personalized with your name, examples Karen's Kitchen, Fido Farm etc
Okay Dokey Artichokey!

Love this backsplash installation with Artichoke metal tile as center piece
Eclectic Spanish Revival Kitchen Design and Backsplash


I love eclectic and unusual kitchens. This is one of my favorites. It gives a nod to Spanish architecture and colors. The mixture of dark wood and unique red cabinets together with our Chili pepper Kitchen mural pull this look together. I also really like the little 1" x 1" red glass accent tiles

more info on Chili Pepper Kitchen mural
Left: Kitchen backsplash design with 5 fleur de lis handmade glass and mother of pearl tiles by artist Linda Paul with antracite terrazzo backsplash

Right: Hand-made glass tiles with iridescent natural paua shell. shows 6" x 6" Fleur de lis Paua shell and glass tile with white subway tile. These tiles come in different sizes
Roosters in the kitchen!


This installation shows our
custom duo roosters design
in a mosaic sticks backsplash and wolf range


The customer who bought this medallion gave this review:

"I was excited to find these medallions offered by Linda Paul and when I called, Linda was totally responsive and shared my excitement. We exchanged ideas and Linda came up with the design with two roosters which I love! I was thrilled when I saw it; it's gorgeous! The product is quality. The medallion adds so much character to our kitchen! And the metal accents add continuity to the kitchen space." Mary Jane Leland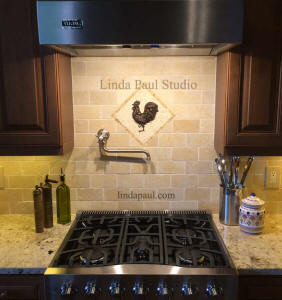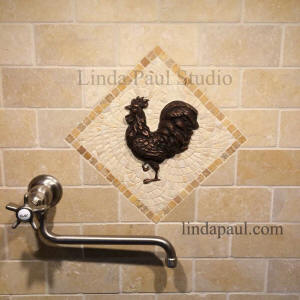 Small medallion makes a big Impact
Our
Rooster mini Medallion
transforms this otherwise plain subway tile backsplash into a charming French Country inspired kitchen
Mosaic Tile Backsplash Idea and Design


This kitchen backsplash tile design is one of my favorites. It features our Vienna grape medallion, studded brackets, le grape borders and Melissa accents. The neutral tile colors of grey and black are a nice contemporary touch.


more info on these grape medallions