399.00

to 1299.00

| | |
| --- | --- |
| | These new original paintings by Linda Paul are great for a large restaurant wall space |
We created this Italian Pizza Kitchen large marble tile mural and restaurant sign for Antigoni's Pizza in Turner Maine

We can customize any of our artworks with the name of your restaurant

click picture to see larger image
" Dear Linda, I wanted to let you know that we received the artwork perfectly and hung the prints in the restaurant (Pizza Del Sardo). They are beautiful and look as if they were custom made for the space. Many compliments have been paid and people enjoy looking at them. I will be ordering a few more as soon and am looking forward to seeing more of your art in our restaurant! I'm so happy I found your web site, which is very well done. Your service is excellent. I would also love to order a piece for my home (horses) and plan to do so soon. Thank you so much. " Marcy - Pizza Del Sardo, Valencia CA


We created a of a custom Sunflower Field backsplash for one of our Canadian customers

Customer comments: "Finally after a year I am sending pictures of the tile mural. It looks beautiful, everyone loves it! It was wonderful finding your studio. Our kitchen would not be the same without your mural. Everyone who sees this mural raves about it. To say we love it would be a huge understatement------we are thrilled beyond words. Thank you again for everything. It was a pleasure doing business with you!
Alma Buchanan, British Columbia Canada "

Artist Linda Paul can create any of her artworks on canvas or tile in any size you need. You can also have your own photographs or artwork reproduced on to canvas or marble tile to make your restaurant extra special


click picture to see larger image


Visit our collection of vegetable and fruit metal tile accents and onlays for indoor and outdoor kitchens and restaurants. These beautiful tiles are 3d sculptures that can be glued onto existing tiles, walls, wood or inserted between other tiles. The 3-d effect on these tiles is amazing. They can be used indoors or outdoors

fruit and vegetable metal tile accents

Custom Restaurant Art! Have the name of your restaurant added to a tile wall mural or canvas art print

Artwork is customized with hand-painted lettering for Sloppy Jose Mexican Restaurant. The menu has been customized as well


Our Italian Chef canvas art has been custom lettered for CalTerra Italian Trattoria Restaurant in CA


In this tile mural of a French Bistro
the restaurant signs have been personalized for the customer

| | | | | |
| --- | --- | --- | --- | --- |
| | | Here is our Sunset over Tuscany canvas art which has been customized with the name of the Italian pizza kitchen, Il Forno, at Farmingdale State College | | |


Tile Murals for your Spanish, Italian or French Restaurant Decor
Linda Paul's pictures of Mexican, French & Italian cuisine are available as wall murals on tumbled stone tiles or as canvas prints. These can be customized with the name of your restaurant, coffee shop etc.
see all tile wall murals
Just a few of the restaurants featuring Linda Paul artworks:
Pizza Del Sardo, Valencia CA
Antigoni's Pizza - Turner Maine
CalTerra Trattoria, Atascadero, CA
Maxwell's - An American Brassiere, Englewood, CO
Poggios's Restaurant - Denver CO
BURRACHOS Mexican Restaurants in La Crosse, WI & Marshfield, WI.
Max & Erma's on the Boulevard - Columbus Ohio
Mexican Gardens Restaurant - Southgate MI
Sloppy Jose Mexican Restaurant - Marquette, Michigan
The Gondolier Italian Restaurant - Boulder Colorado
JG's Tarentum Station, PA Farmingdale State College, NY
Arbor Ridge Vine & Grill, Buckner, KY (featuring The Vineyard on outdoor sign, menus, restaurant uniforms)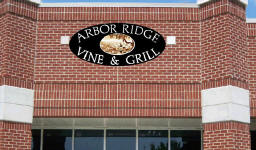 Our "tough as nails" canvas prints for your restaurant
our studio can create a "tough as nails" canvas art prints for your restaurant wall decor. How is this different from our regular stretched ready to hang print? We add an extra board under the canvas so that the artwork is mounted and glued over a solid surface. The sides of the canvas are wrapped around the box and then hand-painted with a coordinating color. Then several coats of an archival commercial grade UV protective varnish & waterproof sealant is applied over the canvas. You can wipe off any airborne salsa or spaghetti sauce, yet these artworks look like original paintings. They are tough and beautiful!

"Your paintings are very beautiful!!! I just opened a new restaurant called JG's Tarentum Station Grill and I am planning to proudly display them at the restaurant. The restaurant is in a historic landmark building formerly a railroad station that has been around since the late 1800's. I will be purchasing more in the near future. Sincerely John Greco"


"Linda, I received the French Country House print today. It is beautiful! I am very pleased with the quality and beauty of the artwork and with your personalized service via your web site. As an interior decorator, I look forward to dealing with you in the near future. Sincerely, Denise Watkins Crystal Beach, Florida " More Customer Reviews