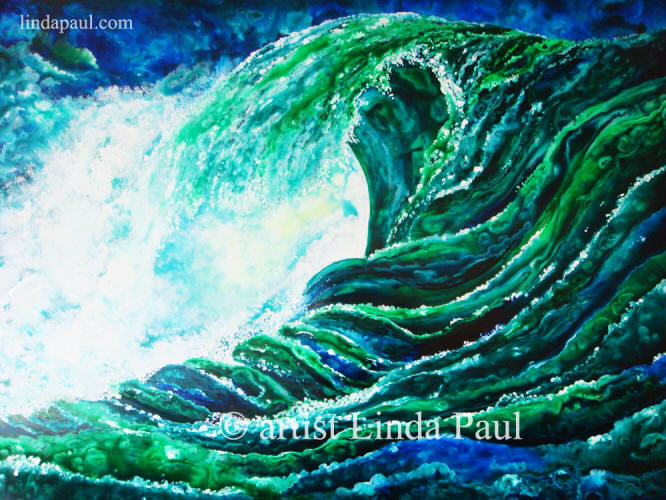 Super Amazing deal on this Large Ocean Waves original Painting
Size 48" x 36" x 2"
Price $4900.00 on sale for $1190.00 Medium acrylic and egg tempera on wooden panel
frameless ready to hang original work of art
This large original artwork was painted in a combination of acrylic and egg tempera paint. The acrylic gives it a fully sealed, slightly glossy finish. It is painted on a cradled wood art panel that is 48" wide x 36" high x 2" deep. The sides are painted a deep blue and it arrives ready to hang on your wall.
The paintings are luminescent with layers of color in blues, aqua green and white. This simple yet vibrant color palette is stunning with an coastal or beach house decorating style

See how great this painting looks in this contemporary style bedroom. The color and movement in this painting will make any wall a focal point of vibrancy and life. Paint color for a feature wall does not have to cover the whole wall. In this picture the green wall behind bed, it just enough to add interest without being too much

The painting also looks amazing on a living room white wall
Ocean Wave
Size 12" x 12" x 3/4"
Price $499.00

sale price $199.00


Medium: Acrylic
3/4" sides are painted dark blue - No frame needed


Surf's Up
Size 24" x 24" x 2"
Price $1500.00
Medium acrylic and egg tempera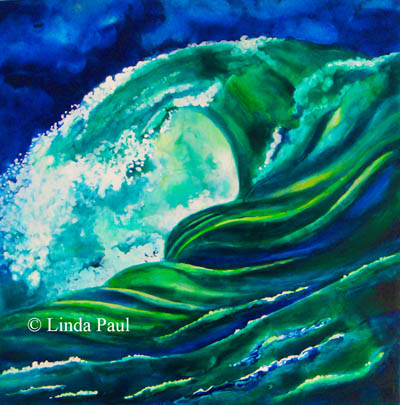 Surf's Up
Size 12" x 12" x 1"
Price $499.00
Medium egg tempera

Aloha Hawaii
framed Size 14.25" x 12" x 1" Size of painting alone 8" x 10"

Price $299.00
Medium: Acrylic
framed in glossy black acrylic frame
comments from customers who have purchased works of art read more reviews
We recently purchased 3 of your paintings (2 originals and 1 print) and we are extremely pleased with all of them. The colors are extremely vibrant and add so much character to the rooms in which they hang. The website photos looked great but when the real things arrived, we were overwhelmed by the quality. We're already scouting around the house to see where we can add some additional paintings to bare walls! Diane and Bob Moseley, Arnold, MD

Why Buy Original art? Some people may ask, "why buy original art when you can buy a nice print". Several reasons, simply put, the original is just far more beautiful. Its also one of a kind. This beauty does not translate as well in the digital world. Another reason is that the original captures the soul of the artist, what the artist is feeling when they are creating the piece can tangibly be felt in an original artwork. Of course the original is far more valuable and usually increases in value. You should buy original art because you love it! It will enrich your life.