A new painting of grapevines and vineyard by Linda Paul.
Framed Size 45" x 35" - Price $3500.00
Free shipping in USA and to Canada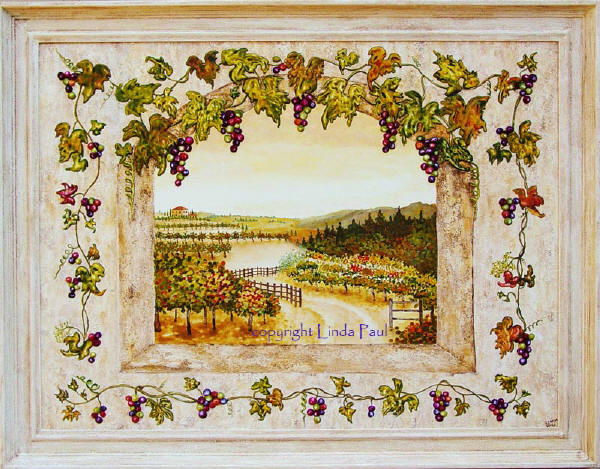 copyright info will not appear on the art that you purchase
This painting is framed in a beautiful fresco frame hand-painted by the artist to perfectly compliment the artwork.
This original sculpted artwork was painted in pure egg tempera made from natural crushed stone & earth mixed with a bit of water and egg yolk.. Blues come from crushed lapis lazuli, greens from malachite & natural green earth found around Verona Italy. Painter Linda Paul uses fascinating colors which have been "lost" for hundreds of years & new colors which she has discovered in the Rocky Mountains. Her earth ochers come from the ancient mines of France & Italy. read more about egg tempera paintings:
See how this painting was created!


The Sketch
I begin my sketching out the main elements that I want
I wanted to play off my last painting, Angels in the Vines. with a a similar window, surrounded by grapevines, with a view of a vineyard in the background.


Sculpting
This stage I sculpt in bas-relief the grapes and vines. Once it is sculpted , I can not change the location of any items. Sculpting is always slow, but lots of fun


Painting begins
The painting part begins! I am starting to lay down my base color. Even though this is not a very pretty stage of the artwork, its very important because the base colors I start with set the mood and direct the color palette that I choose for subsequent layers. I speak of layers because an egg tempera painting is layer upon layer of thin color washes. It is the exact opposite of a oil painting created with thick color and a palette knife. By sculpting the artwork first in bas-relief, I add incredible texture and a tactile element to the painting
I have started to work on the background landscape of the painting and have added a bit of color to the sculpted grapes around the window. I am creating terraced vineyards and a road leading to the fields.

I have developed the vineyard landscape to the point that I can start painting the sculpted grapes and leaves around the window. I still have more work to do on it though. I really love the colors of a vineyard in fall, so I will carry that theme throughout the artwork. I plan to paint the grapes in shades of amethyst purple, green and raspberry merlot and the leaves in both green and turning leaf fall colors
| | |
| --- | --- |
| | I am working on the grapes and leaves that surround the window. I work from light to dark (the opposite of an oil painting) so the leaves start out yellow, then I layer spice colors of oranges and golds, and finally the greens. Then I take off some off the top color to reveal the light underneath ( I like complex layered color). Finally I will deepen some areas to make the colors pop. I still have not decided whether I will darken the background behind the grapes. Painting is a journey that only creates magic when you go with the flow and let it draw you in a direction |
| | |
| --- | --- |
| | This artwork is really starting to move together as a cohesive piece now. The colors I am using are the "in colors" for 2009. Even though I use natural pigments to make my egg tempera paint, I can blend them in any way to create any color I envision. You can decorate and inspire an entire room just from using the colors in this painting. See my guide for paint color ideas for 2009 |
click here to buy canvas prints of this painting
Questions, comments, or to order email the artist or call toll free 1-800-936-9958 or 303-604-9958 Colorado Shop Online! Free Shipping in USA and to Canada - orders will ship within 5 days -

Seeing IS believing and we believe you will absolutely love your artwork from Linda Paul Studio. 100% money back guarantee if you are not completely enraptured with your purchase.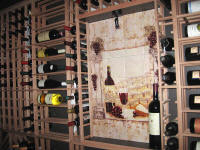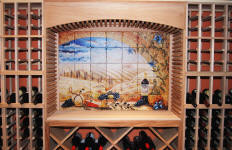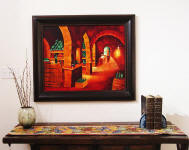 see my wine art tile murals that are perfect for wine cellars and wine decor

"Hi Linda have just received THE WINE CELLAR (original painting). It beats all expections, I really am blown away by it. from a very HAPPY JEFF, South Hampton UK "
The Tuscany Window tile mural is absolutely beautiful. It is a great feature in my wine cellar and reminds me of my days spent in Tuscany. Everyone who visits my cellar is very complimentary. Thanks, Tim

"Dear Linda, I have never ordered any artwork online before and I was amazingly surprised to have received the most beautiful canvas art print "Tuscany in the Mist". The quality looks like an original and it works perfectly with my master bedroom decor. I have shared with my friends and they could not believe it was a print. I am going to look for more of your work soon. It was also so nice to be able to talk to you about the piece before I purchased it. You made me feel comfortable that I could return it if I was not happy with it for our money back. Donna Snyder, Ormond Beach, FL "

Read More Customer reviews