Tuscany in The Mist
Kitchen Backsplash Tile Murals of Tuscan Landscape by artist Linda Paul
Beautiful Tuscan tile mural backsplash of a Tuscany landscape with Italian villa, cypress trees and rolling hills in the mist by American artist Linda Paul.
Large and small sizes. Custom sizes too Questions call 303-818-2663 or email us

Artists inspirations: This quintessential Tuscany landscape is found outside Pienza, Italy. Pienza is the most beautiful little Tuscan town, famous for it pungent cheese. Its one of my favorite places and I hope to return there someday. I am always enchanted by cypress and olive trees, winding roads & old Tuscan farmhouses. Artist Linda Paul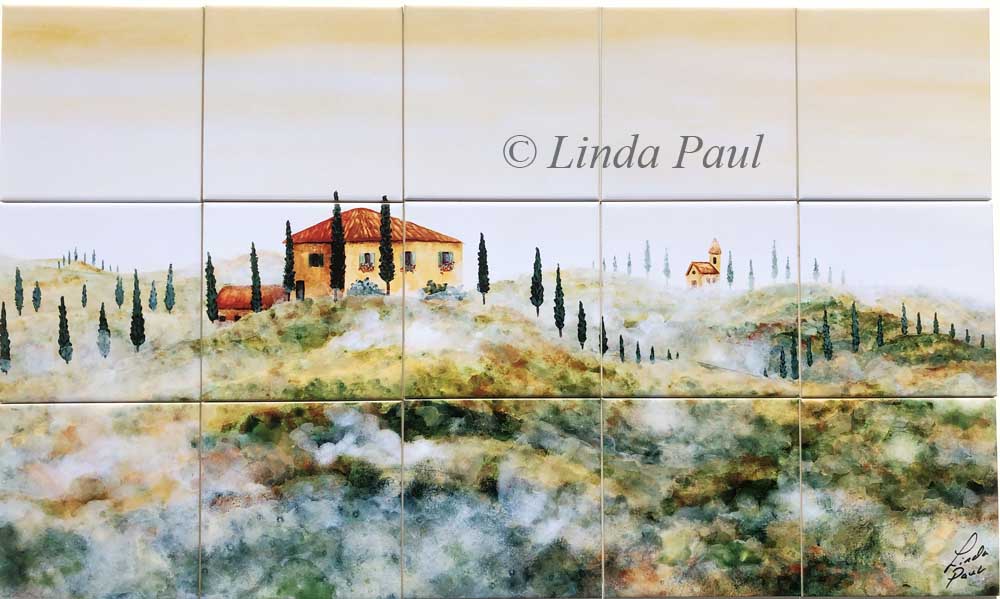 Picture shows our 30" x 18 size

Tuscany in The Mist by American Artist Linda Paul
Price $399.00
and up



Our beautiful murals and accent tiles are made on 1/4" thick ceramic tile


Please contact us for custom sizes or to order your mural on 4.25" x 4.25" tile

more details about tile types, sizes etc



Murals and accent tiles have a satin finish
Pricing & Online Shopping
6x6"

x 1/4" ceramic

tile mural backsplash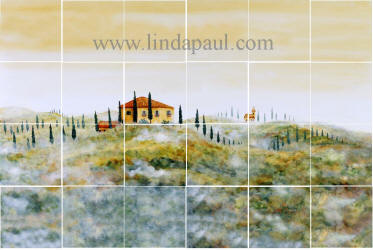 Tuscany in The Mist version EXT click picture to see larger image



6" x 6"

x 1/4" ceramic

tile mural backsplash




Accent Tiles: 4.25" x 4.25" and 6" x 6"

(x 1/4" thick) ceramic

tile $50.00 each






Tuscany in the Mist 6" x 6" border tiles


We can design matching border tiles in a continuous running pattern in any length. Works great as a ceiling or a bathroom tile backsplash border (see picture below) $50.00 per tile


Tuscan tile border; 6" x 6" x 1/4" ceramic tile

Dimensions are given as length first, then height.
Don't know What Size to Order?
If you are not sure which size of backsplash mural to order, just email us a straight on picture or design drawing of the space you have for your backsplash and we can tell you which is the best size for your space. Be sure to include all dimensions. We can design the perfect backsplash mural just for you! Artist Linda Paul is an expert in designing her images to fit your space perfectly!
contact our tile design experts or call 1-303-818-2663 to order or inquire

Our murals ship in approx. 1 to 2 weeks, free shipping in USA and to Canada see our in stock murals
Installation Pictures
This classic kitchen features our 30 x 18 Tuscany in the Mist on 6x6" ceramic tile.The long backsplash field tile is a really nice look

The customer who bought and installed this mural says. " My new kitchen is finally completed and I just love my tile mural. it takes me back to Tuscany whenever I look at it. Thank you for adding that special look to my kitchen. Priscilla Ginnetti, Canterbury, CT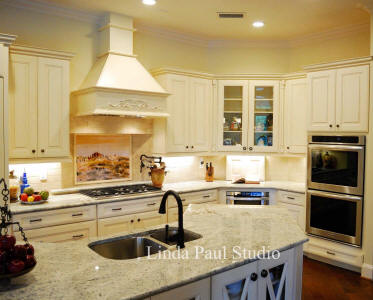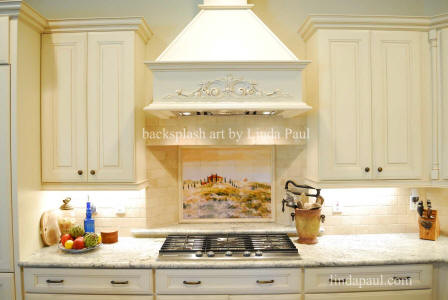 30" x 24" Tuscany in the Mist in this beautiful contemporary white kitchen, kitchen designer Katie Davis , Bowen Design, Houston
Featured Installation of Linda Paul's Tuscany in The Mist


This kitchen is a dream combination of contemporary and classic. The large stainless hood and modern subway tile are great design ideas. Our Tuscan landscape mural is the perfect focal point
Tuscany in the Mist in 30" x 18" size bordered by
metal fine rope liner
and 3" x 6" subway tiles that have been creatively turned in horizontal and vertical directions. This tile pattern is unique and fits the space perfectly. I like how the range area juts out like a little peninsula.

From the customer who purchased and installed this mural
"Thank you again for your beautiful work. I can't begin to tell you how thrilled I am with the mural. Lisa Kern Milwaulie, OR
Tuscany in the Mist in 36" x 18" with white
3" x 6" glass subway tile and fabulous copper range hood

picture shows our Tuscany in the Mist with 2" x 4" crema marfil subway tiles and 1-3/8" x 12" lotus cream border tiles. Its centered perfectly above the Wolf range


"Thank you for the beautiful "Tuscany in the Mist" accent tiles. These have been installed in my downstairs ½ bath. I themed the bathroom colors around these tiles and it turned out beautiful. The tiles really make a statement. My house is designed around a Tuscan Villa style. Your help to design and alter the pattern of the tiles on the 4 different walls was very helpful. The tiles were delivered and packaged by wall elevation and number making installation very easy. Also the fireplaces accent tiles turned out to be a very cool detail in the Master Bedroom. It was a pleasure ordering from you and I will come back if I develop any other tile or canvas print ideas for my home." David Holland, Project Executive, Turner Construction Company
Dear Linda, We want to thank you for making the focal point of our now completed kitchen renovation. When we received the mural, it was even more beautiful than anticipated. Now that the construction is complete, we know it was perfect for the feel we wanted to create, having hiked through Tuscany on our honeymoon last year. We have had so many compliments on the mural from our friends, our contractor and especially our tile guy. He said he had never seen anything like it Linda & Jim Masick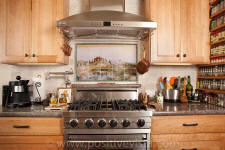 Some great kitchen design ideas. Love the cabinets and spice rack on the side
Center stage is our Tuscany in the Mist backsplash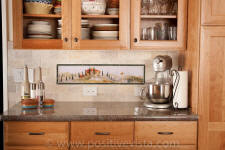 Need a simple backsplash idea? Just a few of our decorative border tiles placed in the backsplash make a great compliment to the mural (left) photo courtesy of Positive Vista Photography & Art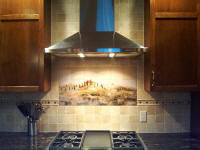 Great installation of my Tuscany in the Mist backsplash mural with tumbled marble stone field tiles. Love the border accents row of mosaics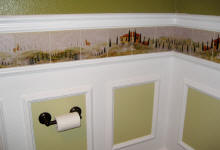 Tuscany in the Mist border tiles have been designed to go around the entire bathroom.
click pictures to see larger images
you also might like these art and tile products from Linda Paul Studio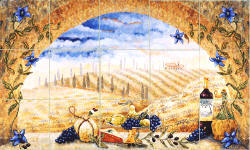 Tuscany Arch
Wine country kitchen backsplash, mural with grapes, cheese & flowers under an arched window.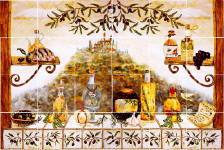 Italian Kitchen Window
Backsplash tile mural for behind a stove or sink area with olives, grapes, olive oil and cheese.
Tuscany in the Mist
canvas art prints up to 60" x 30"