"Farmhouse kitchen backsplash tile mural and decorative accent tiles of ducks, pig and French Country farm
by artist Linda Paul

Farmhouse decor tile mural in beautiful country colors of orange, rust, brown and green.

Artist's Inspiration: The countryside in France is one of my favorite places. I always felt bad for the fois gras ducks but happy for the pigs that got to eat truffles. I call the pig one Snuffles for Truffles. In the background are the old bee hive shaped farm that can still be found in rural France. These tiles are perfect for farmhouse decor

free shipping in USA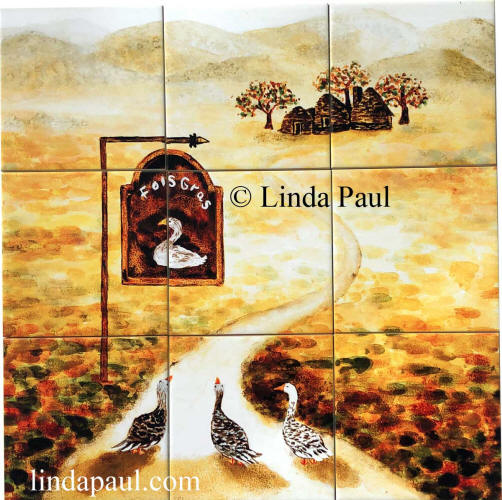 click picture to see larger image
Three Ducks - farmhouse backsplash tile mural


on 6" x 6" ceramic tiles.



Our beautiful murals and accent tiles are made on 1/4" thick ceramic tile

Please contact us for custom sizes or to order your mural on 4.25" x 4.25" tile
more details about tile types, sizes etc


Murals and accent tiles have a satin finish
Our murals ship in approx. 1 to 2 weeks,
free shipping in USA
Installations

Three Ducks tile mural for French Country or Modern Farmhouse Decor

Get Quacking with this french country farmhouse tile mural from artist Linda Paul. Have sign personalized with your name, examples Karen's Kitchen, Fido Farm etc
contact
our tile design experts or call 1-303-818-2663 to order or inquire

you also might like these farm animal and country inspired tiles from Linda Paul Studio