Fleur de Lis Tile Metal Tile and Mosaic medallion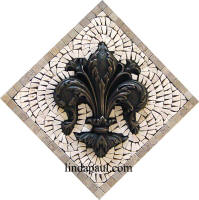 above in bronze antique patina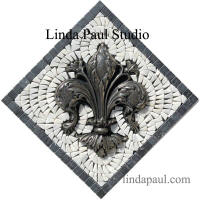 above in Nickel Silver high polish with S1 and S7 Marble mosaics


click pictures to see larger images.
show below in Copper Oil Rubbed with S3 S5 mosaics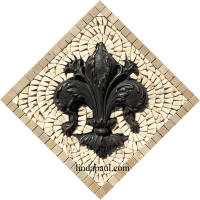 copper oil rubbed, S3 S5 stones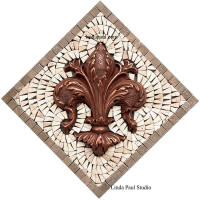 copper high polish S3 S5
Exclusively from Linda Paul Studio
Fleur de Elegance Diagonal Mini Medallion

$399.99


Each side measures 10" x 10", top to bottom and side to side points measure 14"

Arrives fully assembled on a mesh backing, just glue to the wall and grout the stones. Tile part is 3/8" thick. Fleur de lis protrudes another 1" in relief. Individually handcrafted in USA

Free shipping
In stock and ready to ship we have 3 in bronze antique patina, 4 in copper antique patina, 2 in copper oil rubbed, 2 in copper high polish, all with S3 and S5 travertine tile . We also have 3 in nickel silver high polish with S1 Carrara White and S7 Negro marquino stones and S7
$399.99
free shipping in USA
The center fleur de lis is high quality metal coated resin., surrounded by either travertine (S3 S5 or marble tile (s1 S7) copper, bronze and nickel silver. They are hand-crafted in the USA.
free shipping in USA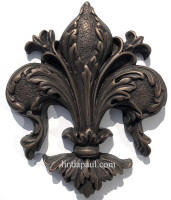 Fleur de Elegance Borderless Onlay
shown in bronze antique patina
6.5"wide x 8.25"high $169.95
thickness is 1-1/8"
click picture to see larger
Installation pictures and ideas for fleur de lis backsplash
Mediterranean Style kitchen with Fleur de lis small mosaic and metal medallion

This installation of our fleur de lis small medallion hits it out of the park! The installer did a great job of utilizing different tiles and making a ledge above the stove. Love the red accents too. The medallion is in stock in several metal finishes.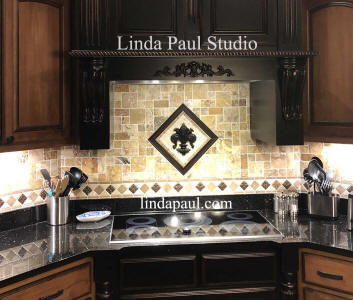 The medallion is surrounded by random pattern travertine tile with a nice border along the counter edge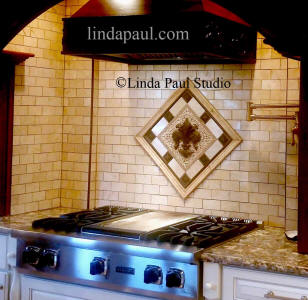 Make a big statement with a small budget and some creative tile frame work. Bronze antique patina S3 S5 Stone Customer says. "Just a quick photo of The Medallion that we purchased from you... added a few personal touches and voila, a beautiful unique focal point!" Jill Rothe, NY.

Copper High Polish

Copper Antique Patina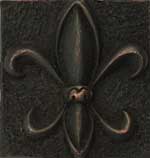 Copper Oil Rubbed

Bronze Antique Patina

nickel silver high polish