Wall of Ages Tile Kitchen Backsplash Mural by artist Linda Paul
Beautiful tile wall mural of a French Country House in Provence France with bicycle, dog on porch, old wall and rose arbor. Tile murals of France by American artist Linda Paul. Made in my Colorado art studio
Questions call 303-818-2663 or email us

free shipping in USA
Wall of Ages by American Artist Linda Paul
Price $ 349.00 and up
6" x 6" ceramic tile mural backsplash

all versions now include the dog on the porch, unless otherwise requested


Accent Tiles 4.25" x 4.25" and 6" x 6" ceramic $50.00 each (1/4" thick)

Artist's inspirations:
My first trip to France was to the region of Provence. It was there that I first fell in love with the beautiful ochre buildings, painted doors, shuttered windows and old walls. I loved the simpler way of life in the little villages; biking to the small shops to get your French bread and picnic lunch. I was inspired by the grapes & rose arbors growing over doorways and arched windows. The original painting was painted with the natural earth ochers that I collected by hand from the ancient mines in Rousillon. The ochers comes in 17 shades of cream, soft yellows, gold, brick reds and browns.

Customer review:

by Carol Rhoades,
"Dear Linda: Received my mural (Wall of Ages) and accent tiles today - everything was packaged just beautifully, and I confess I HAD to unwrap the bottom two rows of the mural, just so I could see it in person. . . .OH MY GOSH! It is absolutely GORGEOUS, I just cannot get over how vibrant and pretty the colors are, it is such a peaceful, wonderful little spot, it is just FABULOUS! I can't wait to see it on the wall, behind the stove. I am just ecstatic. truly. I am so very pleased that I (also) purchased the flower market painting. I am really looking forward to getting that piece, I am very grateful that you made it so easy for me. I have no qualms at all regarding the packaging or the state of the painting once it arrives. I know it will be just wonderful. Just can't wait. had to email and let you know that I had received the mural, and I think it is just perfect.
More customer reviews
About our tile murals
and
Installation Instructions for tile murals backsplashes
Our beautiful murals and accent tiles are made on 1/4" thick ceramic tile


Please contact us for custom sizes or to order your mural on 4.25" x 4.25" tile. Dimensions are given as length first, then height. Murals and accent tiles have a satin finish
Don't know What Size to Order?
If you are not sure which size of backsplash mural to order, just email us a straight on picture or design drawing of the space you have for your backsplash and we can tell you which is the best size for your space. Be sure to include all dimensions. We can design the perfect backsplash mural just for you! Artist Linda Paul is an expert in designing her images to fit your space perfectly!
Our murals ship in approx. 1 to 2 weeks, free shipping in USA
Installation Pictures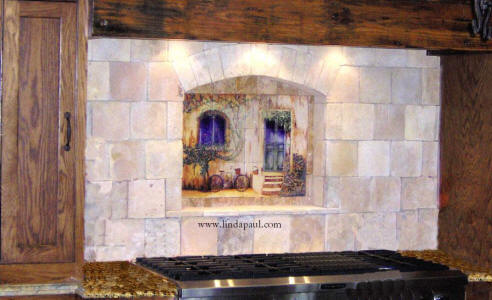 Featured Installation

Check out this fabulous installation of Wall of Ages on marble tile set into a recessed arch and surrounded by tumbled stone.
Wall of Ages mural with pot filler on the side and a cute little bicycle are a great way to bring french country into your kitchen


you also might like these art and tile products from Linda Paul Studio