Tropical Paradise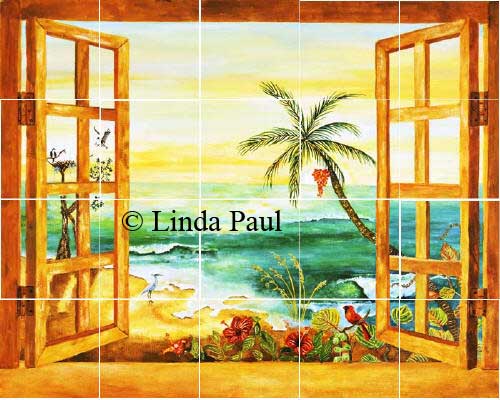 click to see larger picture
Pricing & Online Shopping
4" x 4" tumbled marble tiles
6" x 6"tumbled marble tiles
the 32 x 24 crops a bit from the bottom see picture
the 24 x 18, 48 x 36 and 54 x 42 crops a bit from the bottom see picture
the 36" x 30" crops a bit from the sides see picture
Tropical Paradise EXT Extended Version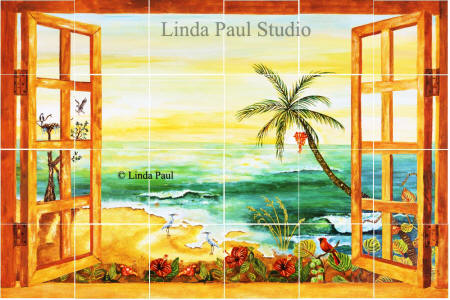 | | |
| --- | --- |
| 4" x 4" tumbled marble tiles | 6" x 6"tumbled marble tiles |
| | |

Tropical Paradise Super Extended Version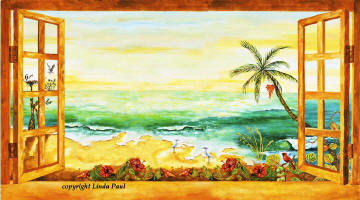 | | |
| --- | --- |
| 4" x 4" tumbled marble tiles | 6" x 6"tumbled marble tiles |
| | |
Dimensions are given as length first, then height A note on sizes:4x4" marble tiles actually measure
3-7/8" and 6x6" marble tiles measure 5-7/8". The listed sizes allows for grouting. If you push the tiles tight together the murals will measure slightly less than the listed sizes. For example a 30" x 24" mural actually measures 29-3/8" x 23.5" if the tiles are placed tight together.
Shipping is free in Continental USA and Canada

Custom Tile Murals: We can also create a custom mural to fit your individual space. Just give us the length and height of the space you have for your mural, and we will email you a quote with pictures to show exactly what your mural will look like. We use either 4" x 4" or 6" x 6" tiles, so your measurements should fit dimensions using either of these tile sizes.
Don't know What Size to Order? If you are not sure which size of backsplash mural to order, just email us a straight on picture or design drawing of the space you have for your backsplash and we can tell you which is the best size for your space. Be sure to include all dimensions.

Accent Tiles: 4" x 4" or 6" x 6" tumbled marble stone $40 each

TP-3
red cardinal & sea grape



TP-4
palm tree art tile



TP-5
Palm tree and ocean sunset

We can design the perfect mural just for you! Artist Linda Paul is an expert in designing her images to fit your space perfectly!
Tile sizes used for murals & backsplashes are:
4" x 4" or 6" x 6" (x 3/8") tumbled marble

Our murals ship in approx. 4 weeks, free shipping
see our in stock murals that ship much sooner
Featured Installation
A 44" x 24" custom Tropical paradise tile mural installed in a beautiful Florida kitchen. Love how the heron decor on top of the cabinets matches the herons in the artwork
"Hi Linda! We love our mural in our Florida vacation home. We are thinking of another remodel and will be looking into purchasing another beautiful mural of yours. Thanks much! Dee and Rich Kohl "

get more kitchen backsplash ideas
Custom versions:
You can special order tropical paradise without the window
Our tumbled stone murals come with a satin finish. They are easy to clean with soap & water and are designed to be used as kitchen backsplashes & behind stoves & ranges.

more about our tumbled marble stone tile murals & kitchen backsplashes
- murals are designed and created in artist Linda Paul's Colorado studio. These are individual works of art
- created with permanent pigmented inks directly onto natural tumbled marble stone tile.
-sealed with 2 coats of a custom satin sealer
- murals are easy to clean and designed to be used as backsplashes behind sinks and stoves
you can expedite your order to ship in 2 weeks for an additional charge of $100.00
just click add to cart

You can add a frame to any of our 4x4" or 6x6" accent tiles and hang them as wall art
buy frames
email our tile design experts or call 1-800-936-9958 to order or inquire
toll free from USA, Canada, the Caribbean, Alaska or Hawaii

Get Tropical with your kitchen decor: You can decorate your whole kitchen using the tropical colors in this painting as inspiration. Use a soft creamy yellow for your wall paint color, cabinets can be beach house white or natural wood. You can use teal and red colors for accent pieces to create pops of color. The mural is stunning with green granite.
Read more reviews and comments from customers who purchased a kitchen backsplash mural.
"The mural is even more beautiful than I had expected! I love the smoothness of each tile, and the depth and beauty of the colors you used. I also really appreciate the obvious care you had taken to ensure safe delivery. Thank you for your talent. Very sincerely, Barbara McNair, San Diego "
"Linda's tile murals look even more beautiful in person than they do in the photos on the website. She has been a delight to do business with. The mural I have now in my kitchen makes the room so much more special than it would have been without it. I highly recommend that anyone who does a kitchen mural, also order the extra accent tiles to place randomly throughout the backsplash area around the mural. They really seem to finish off the look. Kathleen Noehren Redlands, CA "