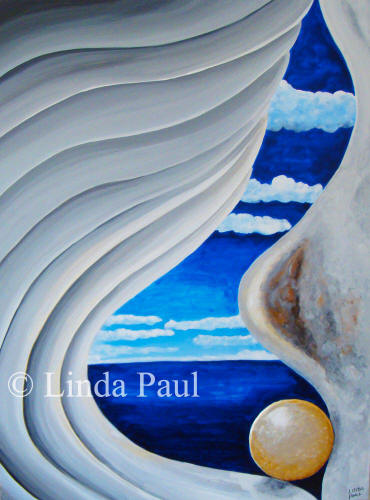 click picture to see larger image - copyright info will not appear on the art that you purchase
| | |
| --- | --- |
| | Mother of Pearl painting provides the pop of color that this contemporary white living room needs. The blue glass vase picks up the blue color in the painting and even emulates the shape and fluidity of the painting. Linda Paul is working on an entire series of paintings inspired by the ocean, shells and waves that are perfect for contemporary decor. The painting in this picture is the original , but you can order a canvas print in any size , just contact me |
| | |
| --- | --- |
| | Side view of painting. In this view you can see the gold iridescence in the shell and pearl. In the evening this glows and catches the light beautifully |
About this artwork:
This original work of art is painted on a 30" x 40" x 2" cradled art panel/board. It is a solid surface. The 2" deep sides are painted in dark blue. The artwork is frameless and arrives at your door ready to hang on your wall. It does not need a frame but your can frame it if you want to

Click pictures to see larger image

8" x 10" Study Painting:
buy unframed for $129.00 I can add a glossy black acrylic frame for you for and additional $40.00. Painted on a 1/8" board - must be framed in order to hang it (fits a standard 8" x 10" frame)



Artist's Inspiration:
I took a trip to Sanibel Island, Florida and spent a lot of time walking the beach and looking at shells. I am particularly inspired by the inside of a shell, its contours and opalescent qualities.
I want to create an contemporary/abstract painting based on this inspiration.




Artist's Influences:
My very first artistic influence and favorite painting was by artist Lawren Harris from the Canadian Group of Seven. Growing up in Saskatoon (Canada), my parents would take me to the Mendel Art Gallery where they have this untitled Harris original painting of mountains. Even at a very young age I was drawn in by the raw power of the painting. It spoke to me. I tried to channel this feeling and spirit in my Mother of Pearl artwork.




Steps to create this painting
This picture shows work starting on the 16 x 20 study painting. I emulated the shadow contour from the inside of the above shell to create my central shape. I then painted repeating grey and white shell contours on the left side. I decided to have the central shape reflect the sky and sea and the round ball is of course the pearl. I love the idea that the shell animal is the creator and mother of the pearl.

I am back to my roots on this one. I am painting it in old school egg tempera and pulling in aspects of my life's artistic journey starting with my earliest art influences



Click pictures to see larger images

Study Paintings:
I could not decide whether to go with a blue background and a bit of sky and clouds or just a solid black background. So I created a study painting for each one. I put it to a vote on facebook and theone with the blue paint won 3 to 1





This artwork was painted in pure egg tempera made from natural crushed stone and earth mixed with a bit of water and egg yolk.. The blue paint come from crushed lapis lazuli stone. Linda's ocher colors come from the ancient mines of France & Italy. read more about egg tempera paintings:
Questions, comments, or to order email the artist or call toll free 1-800-936-9958 or 303-604-9958 Colorado Shop Online! Free Shipping in USA and Canada - orders will ship within 5 business days