French Bistro Kitchen Backsplash Mural by artist Linda Paul
Tile backsplash of a French country village.
Can't you just imagine yourself walking down the lane and looking at all the wonderful stone architecture that is so typical of old France, Then you stop at a restaurant or bistro for a relaxing lunch. Tile murals of France that are just perfect for French Decor.
Artists inspiration:
My inspiration for this artwork is my love of France & all things French! Especially the food and little medieval villages. The original painting was inspired in the town of Sarlat. It has wonderful winding streets and all the buildings are old stone architecture. There are fabulous restaurants around every corner. In fall, wild mushrooms are in season. I took some artistic license with the signs for the restaurant, bistro, and pub! They are my name, my husband's and of course the pub is le Saucy dog, after my Cocker Spaniel. Artist Linda Paul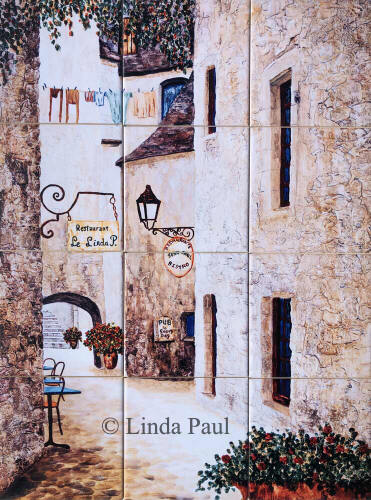 French Bistro by American Artist Linda Paul
Price

499.00

and up
you can personalize the street signs with your names!



Our beautiful murals and accent tiles are made on 1/4" thick ceramic tile


Please contact us for custom sizes or to order your mural 4.25" x 4.25" tile

more details about tile types, sizes etc



Murals and accent tiles have a satin finish
Pricing & Online Shopping
6" x 6"

x 1/4" ceramic

tile mural
We have one 18" x 24" in stock and ready to ship!

Accent Tiles: 4.25" x 4.25" and 6" x 6"

(x 1/4" thick) ceramic

$50.00 each
FB-2and FB-3 tiles can be personalized with your name (extra $100.00)



FB-5
cafe and arch





on 6" x 6" tiles
18" x 18" $499.00
24" x 24" $719.00
30" x 30" $869.00
36" x 36" $1269.00
this is a special horizontal version we can make in 54" x 30" $1575.00
we can personalize the signs on the left side with up to 3 names for an additional $100.00
We can personalize the restaurant signs with your name or whatever you want. In this picture, the customer had the restaurant signs personalized with her family names and initial. This makes your kitchen backsplash mural so personal.
Please email or call us to ask about having your mural personalized. Price starts at $100.00
Please let us know if there is a particular font or color you wish us to use. otherwise its up to the artist to decide

Dimensions are given as length first, then height.
Don't know What Size to Order?
If you are not sure which size of backsplash mural to order, just email us a straight on picture or design drawing of the space you have for your backsplash and we can tell you which is the best size for your space. Be sure to include all dimensions. We can design the perfect backsplash mural just for you! Artist Linda Paul is an expert in designing her images to fit your space perfectly!
contact our tile design experts or call 1-800-936-9958 to order or inquire
toll free from USA, Canada, the Caribbean, Alaska or Hawaii

Our murals ship in approx. 2 weeks, free shipping in USA and to Canada see our in stock murals
you can expedite your order
to ship in 1 weeks for an additional charge of $100.00
just click add to cart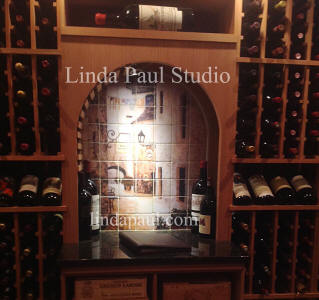 Wine Cellar Mural in arched Alcove
French Bistro in wine cellar.

Last summer my husband and I purchased one of your murals for our kitchen backsplash. The work was completed, and our kitchen is beautiful, especially the backsplash. It's the first thing you see as you walk into the kitchen, and everyone that sees it absolutely loves it! It IS the kitchen. Thank you so much for such a beautiful piece of art! We will be enjoying it and our new kitchen for years to come! Gina Flores, Invine, CA
Read reviews and comments from other customers who purchased a kitchen backsplash mural.

you also might like these art and tile products from Linda Paul Studio