Sunflowers and Vineyard Kitchen Tile Backsplash
by artist Linda Paul
Questions call 303-818-2663 or email us
This mural back splash features a vineyard landscape, hanging grapes, sunflowers and villa winery viewed through window shutters. If you look closely you will see a rooster on the fence post in the vineyard. Its perfect for vineyard themed or country decor from $499.00.
Artist's Inspiration: In my imagination , this would be a perfect view from my kitchen window. The sunflowers are full of happiness and life, I love in the fall when they are full of gold finches. it would be a dream to live on a vineyard with misty mountains and grapes on the vine . from $499.00 free shipping in USA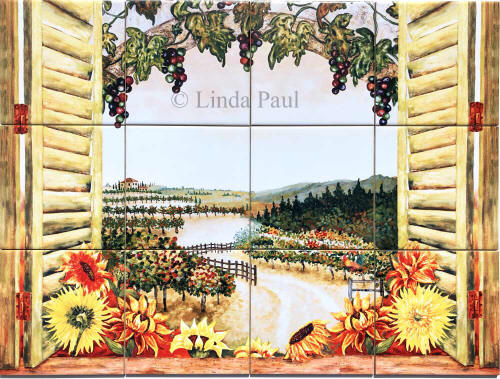 Pricing & Online Shopping

6" x 6" x 1/4" ceramic tiles
6" x 6" 1/4" ceramic tiles

Accent Tiles 4.25" x 4.25" 6" x 6" (1/4" thick) ceramic $50.00 each


Our beautiful murals and accent tiles are made on 1/4" thick ceramic tile


Please contact us for custom sizes or to order your mural or accents on 4.25" x 4.25" tile

Murals and accent tiles have a satin finish
Dimensions are given as length first, then height.
Don't know What Size to Order?
If you are not sure which size of backsplash mural to order, just email us a straight on picture or design drawing of the space you have for your backsplash and we can tell you which is the best size for your space. Be sure to include all dimensions. We can design the perfect backsplash mural just for you! Artist Linda Paul is an expert in designing her images to fit your space perfectly!
Our murals ship in approx. 1 to 2 weeks, free shipping in USA
Installation Pictures

Customer review
I know what it's like doing an internet search for hours trying to select an artist to do a "unique and one of a kind artwork" which in my case was for my kitchen - and then I found her site. Linda's work is just so beautiful and can turn a bland space into a mini art gallery. Her artistic painting on the tiles and attention to detail make this piece of art something really special in our home. My mural choice was the "Sunflowers in the Vines" and I swear to you, it looks like we had a window installed in our kitchen over the stove. It's that realistic when finished! So, do yourself a HUGE favor and make that connection with Linda. She is a delight to work with and extremely knowledgeable and helpful during the ordering process. Her website has sooooo much information along with many, many pictures along with tile ideas and selections. Linda, we thank you very much for enhancing our home with your beautiful work plus turning my kitchen into a showplace and making it a real treat to be cooking in such a gorgeous space!
Nice installation of our 30 x 24" sunflowers in the Vines on 6x6" tile

Customer comment: I just love the mural and it is amazing the further away you get, it actually looks like a window! Carol
you also might like these art and tile products from Linda Paul Studio