Italian Pizza Kitchen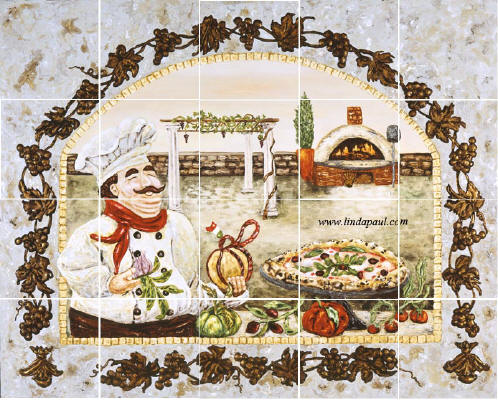 we can add your name or whatever you want in any color to the top curve of the pizza oven or the sky extra $100.00
see example picture on pizza oven

pricing and online shopping
| | |
| --- | --- |
| 4" x 4" tumbled marble tiles | 6" x 6"tumbled marble tiles |
| | |
Shipping is free in Continental USA and Canada
add tile border trim

Dimensions are given as length first, then height A note on sizes:4x4" marble tiles actually measure
3-7/8" and 6x6" marble tiles measure 5-7/8". The listed sizes allows for grouting. If you push the tiles tight together the murals will measure slightly less than the listed sizes. For example a 30" x 24" mural actually measures 29-3/8" x 23.5" if the tiles are placed tight together.
Accent Tiles:
Accent tiles: 4" x 4" or 6" x 6" $35 each

PK-1
Italian Chef, garlic, basil and cheese



PK-2
Outdoor pizza oven tile



PK-3
Pizza and tomatoes



PK-4
Italian cheese, pizza and tomatoes

you can have you name added to the curve of the pizza oven or sky! extra $100.00

We created and customized this one for Antigoni's Pizza

click picture to see larger image
This customer has a smaller kitchen, but our Italian Pizza Kitchen mural makes it a fun place to be. Notice how the oil rubbed copper faucet goes perfectly with the grapevine border of the mural


"Linda (artist) & Tim (our favorite local tile installer extraordanaire)

Both of you did an excellent job. Those who have seen your work are very impressed indeed. The grandkids really like the jolly pizza chef."

Chuck & Dee Slater, CO
| | |
| --- | --- |
| custom 60 x 42" mural | "After reviewing several artists work we chose Linda Paulís Italian Kitchen Window to replace an existing wallpaper cooking area backsplash. The size requirements were not an issue as Linda was able to customize to meet our needs. To say that we are pleased with the result would be a dramatic understatement. The result exceeded our high expectations and the Italian Kitchen Window is now the centerpiece of our beautiful kitchen." Tom & Lynda Mays Hilton Head Island, S.C. |

Custom Tile Murals: We can create a custom mural to fit your individual space. Just give us the length and height of the space you have for your mural, and we will email you a quote with pictures to show exactly what your mural will look like. We use either 4" x 4" or 6" x 6" tiles, so your measurements should fit dimensions using either of these tile sizes.
You can add a frame to any of our 4x4" or 6x6" accent tiles and hang them as wall art
buy frames
We can design the perfect mural just for you! Artist Linda Paul is an expert in designing her images to fit your space perfectly!
Tile sizes used for murals & backsplashes are:
4" x 4" or 6" x 6" (x 3/8") tumbled marble

Our murals ship in approx. 4 weeks, free shipping
see our in stock murals that ship in 3 days
Our tumbled stone murals come with a satin finish.

Our tile murals are easy to clean with soap & water and are designed to be used as kitchen backsplashes & behind stoves & ranges.
email our tile design experts or call 1-800-936-9958 to order or inquire
toll free from USA, Canada, the Caribbean, Alaska or Hawaii


more about our tumbled marble stone tile murals & kitchen backsplashes
b murals are designed and created in artist Linda Paul's Colorado studio. These are individual works of art
b created with permanent pigmented inks directly onto natural tumbled marble stone tile.
b sealed with 2 coats of a custom satin sealer
b murals are easy to clean and designed to be used as backsplashes behind sinks and stoves
you can expedite your order to ship in 2 weeks for an additional charge of $100.00
just click add to cart

Request a Sample! contact us to request a mini paper sample (3" x 2"). Please include name of the artwork, your name, address and phone #. USA only . The paper samples are very close in color to the tiles , but not exact. If you wish an exact color match, we suggest you order an accent tile.

More reviews and comments from customers who purchased a kitchen backsplash mural from Linda Paul Studio
I just want to say that you are a marvelous artist. I am Italian, and your work captured my heart. I sit at my kitchen Island and stare at it when I am having a meal. Your product is great quality and very old world authentic looking. It was a pleasure ordering my Mural from you, and I am SURE I will order again. . Francine Fodrey, Riverside, CA