Original painting by Linda Paul of an arched window featuring a fat Italian chef, pizza, tomatoes, basil, olives and garlic as well as a view of a garden with outdoor pizza oven and pergola.. This painting is perfect for Italian kitchen decor and pizza restaurants. Artist Linda Paul

Artists Inspiration: My inspiration for this artwork is my love of with wood fired pizza, my tomato garden and all things Italian.
Italian Pizza Kitchen
original painting by artist Linda Paul
framed size 35" x 29" Price $2900.00
free shipping in USA and to Canada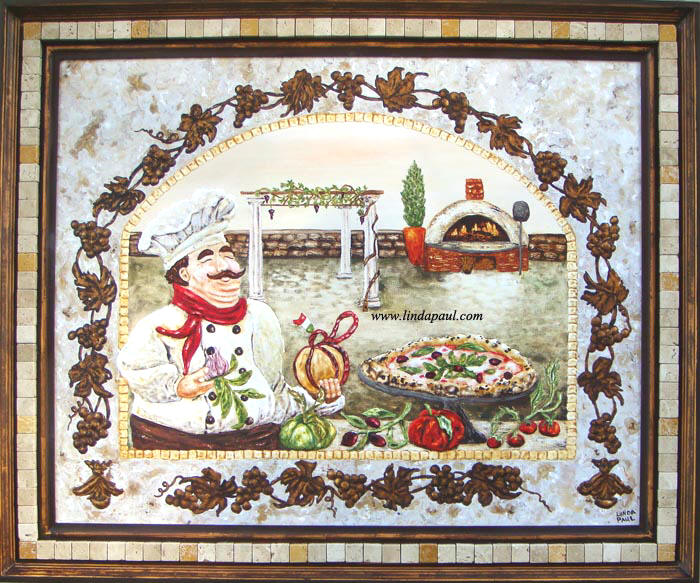 The frame is a custom wood frame which I have finished in a dark color to match the colors of the grapevine. I have inset some beige and gold travertine mosaic tiles around the inside of the frame.
Here is how this artwork was created












Things are moving right along now. I have added a layer of bronze to the grapevine border and started added my faux oil finish on the bottom using a caput mortum pigment and egg yolk. Caput Mortum (literally translated as death's head) is a pigment originally made from the wrappings of mummies Adapted for today's world, (and a lack of available mummies), artist Linda Paul uses a caput mortem which is a natural iron oxide with complex layerings of sienna red and dark brown-black colors.

I have worked on the pizza and other foreground elements. I like where is all is going

Watch this page to see this painting progress
| | |
| --- | --- |
| | The artwork is coming along nicely. I have pretty much finished the sculpting part which includes the Italian chef and the grapevine border. I have sculpted all the items in very low relief using a polymer. For the grapevine surrounding the window, I have painted an underlayer of gold over over the sculpted polymer which I will paint with bronze metal powder and egg yolk and then apply dark brown shadows to emulate the look of oil rubbed bronze. Should look very cool |





I have started painting in the background and added an outdoor pizza oven and garden pergola. I have sculpted mosaic tiles around the inside window arch area.

Next I will work on the other large elements like the chef and pizza as well as the sculpted grapevine border which will go around the window . The fat chef will be holding some Italian cheese as well as a garlic and some basil. That's pretty much perfect food!

Watch this page to see this painting progress





I have refined the sketch and drawn it on to a 30" x 24" board

Then I created a marble look to the wall around the arched window by adding wet pure natural pigments into wet acrylic polymer to achieve the marble look and texture.

The pigments I use are natural earth ochres that come from ancient mines of France and Italy. In the picture (left) you can see the sedimentary layers of the Rousillon France ocher mine where I get my earth pigments


rough sketch


Linda's tomatoes on the vine dinner tonight)


Its time to start a new fun painting. This summer I seem to be obsessed with wood oven pizza. We bike over to Louisville for Lucky Pie pizza or go to Boulder for Boulder Organic Pizza. So its seems apropos to make a pizza themed painting.

I start with a 2 minute rough sketch at my desk with a cup of coffee. This get my ideas down on paper. . The fast sketches usually capture my instincts and feel that I want and then I develop the painting from this initial inspiration

I planted 24 heirloom tomato plants this year and my first early girls tomatoes (in the picture to the left) are just ready for picking. I planted lots of big red ones this year which I will include in my painting along with my fresh basil.

The painting will feature a window overlooking an garden with outdoor pizza oven and columned pergola. The window will be arched and the foreground will contain a fabulous margarita pizza, tomatoes, olives, basil, garlic, mozzarella cheese and a fat Italian chef overseeing it all. I may do an elaborate grapevine pattern around the window


Questions, comments, or to order email the artist or call toll free 1-800-936-9958 or 303-604-9958 Colorado Shop Online! Free Shipping in USA and to Canada - orders will ship within 10 business days