copyright info will not appear on the art that you purchase

This original work of art is a sculpture as well as a painting! All the kitchen elements were sculpted in low relief before being painting in pure egg tempera.
This art work was painted in many layers of egg tempera made from natural ground stones and egg yolk. Linda Paul uses lapis lazuli, malachite and ochers from ancient mines in Provence France to make her paint. read more about the French ochre mines

Frame:
Louisiana Kitchen is framed in a 3" museum quality hand-crafted, solid wood frame. Frame is hand-finished in a lightly textured plaster & egg tempera by the artist.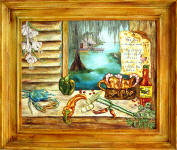 click picture to see larger
Artist's Inspiration: I had an idea to do a New Orleans art series inspired by a Louisiana kitchen & down home southern cooking. I really wanted to have the feel of a kitchen on the bayou. The "To Do" shopping list on the right (of which my life has many), has turned a phrase into a "voodoo" list (being a Louisiana painting and a fun play on words)
Customer Comments
"We are from the UK and visited Louisiana in 2012. The painting (crab shack on the Bayou) is delightful, it has an ethereal quality succinctly capturing the essence of the bayou. Once again, thank you." Regards Jessie Ferguson
Questions, comments, or to order email the artist or call toll free 1-800-936-9958 Colorado Free Shipping in USA and Canada for this artwork - orders will ship within 5 days
Check out more Louisiana inspired contemporary original artworks by Linda Paul


crawfish tile

6x6"

metal oil rubbed stainless



crab metal copper tile 6x6"
Here is the process of how I created this original painting of a Louisiana Kitchen

Sketch for "Louisiana Kitchen


Sculpture part of the process


All major items are sculpted: hanging garlic, old Louisiana wood shutter, crab, peppers, okra, celery, gumbo bowl, shrimp, hot sauce bottle, and bayou shopping list.
My next step is to start the painting of the bayou out the kitchen window. The colors of the bayou will help determine the colors that I will use in the rest of the painting.

The painting is underway

I let the colors in the blue crab and the bayou dictate the tone of the painting. I did the crab first, then the bayou. Then I block in my colors and shadows. I work from light to dark, which is the opposite of most painters.
Items that have the most flexibility in color are finished last. For instance, the bell pepper on the back ledge next to the bayou can be green, red or orange,

The "To Do" shopping list on the right (of which my life has many), has turned a phrase into a "VooDoo list (being a Louisiana painting and a fun play on words)