Tuscan Village - Original & egg tempera painting by Linda Paul
Framed Size 44" x 24.5" Price $2,490.00 Free shipping in USA and to Canada
Beautiful original art painting of an Italian village and its little shops and cafe. This painting has incredible texture!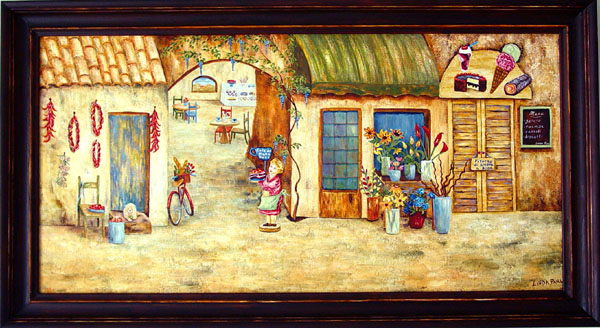 Painting is framed is a hand-crafted frame that has been hand-painted by artist Linda Paul in a beautiful rich dark brown with distressed highlights
go to canvas prints of Tuscan Village $229.00 and up
Questions, comments, or to order email the artist or call toll free 1-800-936-9958 or 303-604-9958 Colorado Shop Online! Free Shipping in USA and to Canada - orders will ship within 5 to 7 business days

Artist's Inspiration: I wanted to create a Mediterranean village and all the life it encompasses. When I travel in Europe, exploring little towns and villages is my favorite pastime. Then once I have looked in all four corners (my husband has a different expression for it), I love to sit down and enjoy a coffee and a treat in a nice outdoor cafe. I love how the cafes are tucked into little nooks and crannies, like the village was an English muffin.

This painting is a series of Italian vignettes: The first is a house where tomatoes are being strung and are drying in the sun. This is where sundried tomatoes come from! My cocker spaniel is sitting on the step. A red bicycle is parked with all kinds of goodies from the market. Through the wisteria framed archway is Cafe del Dolce Mama! At the very back of the cafe is a tiny arched window with a miniature Italian landscape. A flower shop is laden with Tuscan sunflowers, tulips, calla lilies, gladiolas, blue hydrangeas & curly willow. The last little store is a gelato & Italian dessert shop where you can get all kinds of sweet things. Its siesta time in the village. dolce far niente - the sweetness of doing nothing!

About egg tempera paintings:
Linda Paul uses natural crushed stone & earth mixed with a bit of water and egg yolk to make her paint. Blues come from crushed lapis lazuli, greens from malachite & natural green earth found around Verona Italy. She uses fascinating colors which have been "lost" for hundreds of years & new colors which she has discovered in the Rocky Mountains. Her earth ochers come from the ancient mines of France & Italy. Read more & see pictures!