The Vineyard Tile Kitchen Backsplash Mural by artist Linda Paul
Beautiful backsplash tile mural of Tuscan vineyards, wine bottles, wine glasses, grapes on the vine, pears, cheese, rosemary and Italian villa. Made with heart and soul in my Colorado art studio.
This tile mural comes in any size , also in square and vertical versions. Scroll down to see all sizes


Version A on 6x6" x 1/4" ceramic tiles
We have one 24" x 18" in stock and ready to ship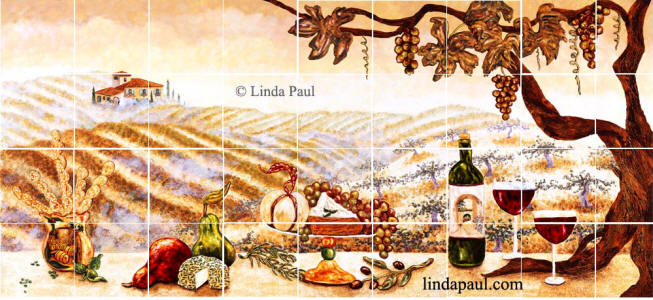 click picture to see larger image - copyright info will not appear on the mural that you purchase


The Vineyard by American Artist Linda Paul scroll down the page to see other versions



we can add

your name

to the wine label

(extra $100.00)

see sample



Original Version 6" x 6" x 1/4" ceramic tile
the 30 x 12 is cropped a bit from the top
see picture

the 42" x 24" is cropped see picture
the 48 x 24 a little is cropped off each side.
see picture

the 78 x 36 a little is cropped off each side.
see picture

the 84 x 36 a little is cropped off the top.
see picture
Artist's Inspiration: I love misty mornings in the vineyards. Whether in California, France or Italy there is something magical about the mist hanging in the grape vines. Its all so perfect and still. I wanted to capture that feeling in this wine still life and vineyard landscape. The pottery holding the breadsticks has a miniature painting of a wine cellar. This artwork is perfect for wine and grape kitchen decor! Artist Linda Paul.
Our beautiful murals and accent tiles are made on 1/4" thick ceramic tile

Please contact us for custom sizes or to order your mural on 4.25" x 4.25" tile
more details about tile types, sizes etc



Murals and accent tiles have a satin finish
Version B on 6x6"
x 1/4" ceramic
tiles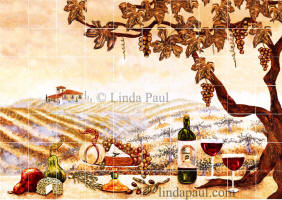 TThe Vineyard Version C with extended sky and grape leaves.

This version works well where you need a taller splashback
click picture to see larger image
Version C on 6x6" x 1/4" ceramic
tiles
Vineyard Vertical Version


Vineyard Square Version

we have one 42" x 42" on 6" x 6" ceramic tile mural in stock and ready to ship $1679.00
as per picture to the left

Wine Accent Tiles: 4.25" x 4.25" and 6" x 6" (x 1/4" thick) ceramic $50.00 each
Lead time for accents is about a week, items marked in stock ship right away

TV-1 Villa


TV-4 two wine glasses

(can be personalized with your name for extra $100.00)

TV-8 grape vine



TV-9 red pear

We also have a longer double version of the Vineyard on 6x6" ceramic tile
36" x 12" $539.00
54" x 18" $959.00
Installation Pictures
Before and After Pictures of mural installation
This picture shows our Vineyard mural in a classic white kitchen.
Size of mural is 30 x 24" on 6x6" porcelain tile. Its really nice how the decorative moulding on top of the cabinets turns the corner (on the right side) and continues along

Here is what the customer who purchased and installed this mural said, "
It's like looking through a window to another place and time."
Loretta, Portmouth, OH
30" x 12" version of the Vineyard on 6" x 6" ceramic tile Adds a great pop of color to this black and white kitchen

Customer review. " Love, love, love it! My husband is especially happy since he first thought of this idea. We sign off, as a very satisfied customer. Thank you Linda Paul for your creativity. You have an artistic gift." Linda and Don Murrile Damon TX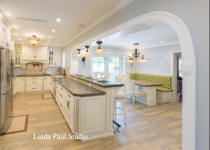 Our 30 x 18 Vineyard mural on 6" x 6" porcelain tile with potfiller was installed in this fabulous remodeled florida kitchen. (Note potfiller holes need to be precut)

This kitchen gives a nod to several decorating styles. The green banquette is perfect for that subtle pop of color. Having the built in banquette instead of table and chairs maintains an open path through to the patio doors
This kitchen renovation features The Vineyard tile mural backsplash by artist Linda Paul. It really helps this small kitchen have a focal point and beautifully enhances the neutral color palette.

This is our 30" x 12" Vineyard mural on 6" x 6" tile
Our 36" x 18" Vineyard mural installed above stove in this neat stone arched alcove


Vineyard tile mural in custom Cherry wood Kitchen

Stunning custom kitchen and installation of our Vineyard splashback mural. Wow!

Its California style living with this indoor outdoor kitchen patio. The space features the Vineyard tile mural and accents by artist Linda Paul
Our 42" x 18 " Vineyard in customer's kitchen
customer comment: "Thought you might like to see where your mural ended up. Everyone that see's it just loves it. Thank you so much. " Tami and George Vardakas Ft. Wayne, IN
This is a beautiful installation of our mural in a cherry wood kitchen. The border tiles around the mural help transition between the mural and the diagonal field tile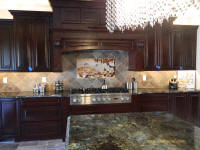 Just say WOW to this celebrity kitchen belonging to JWOWW from Jersey Shore with Linda Paul's Vineyard mural backsplash. Love the cabinets at different heights, the green granite and beautiful light fixture. Mural size is 36" x 18"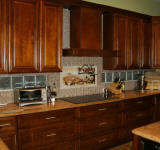 Unique kitchen design with mosaic tile backsplash, our Vineyard mural and cream travertine border tile. Also notice the glass block backsplash detail and cabinet drawers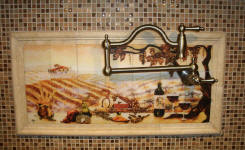 close up of mural. The customer did not grout this mural, just placed the tiles tight together. The rest of the backsplash is grouted
Hi Linda, Just wanted to tell you how happy I am to have this beautiful mural in my kitchen - it definitely is the focal point! I've received so many compliments - from friends, family, and even my contractor who installed it. The details and vibrant colors are amazing. Thanks again for the lovely mural! Best regards, Elizabeth
Read reviews and comments
from other customers who purchased a kitchen backsplash mural.
Picture shows The Vineyard size 28x12"
more double vine versions
30" x 12" on 6x6" $499.00
48" x 18" on 6x6" $839.00

60" x 24" on 6x6" tiles for $1399.00
double vine version
48" x 12" on 6x6" tiles $639.00


Dimensions are given as length first, then height.
Don't know What Size to Order?
If you are not sure which size of backsplash mural to order, just email us a straight on picture or design drawing of the space you have for your backsplash and we can tell you which is the best size for your space. Be sure to include all dimensions. We can design the perfect backsplash mural just for you! Artist Linda Paul is an expert in designing her images to fit your space perfectly!
contact our tile design experts or call 1-800-936-9958 to order or inquire
toll free from the USA, Canada, the Caribbean, Alaska or Hawaii

Our murals ship in approx. 2 weeks, free shipping in USA and to Canada see our in stock murals

you can expedite your order
to ship in 1 week for an additional charge of $100.00
just click add to cart

you also might like these art and tile products from Linda Paul Studio