The Vineyard By American artist Linda Paul $ 399.00 and up
Shipping is free in Continental USA and Canada.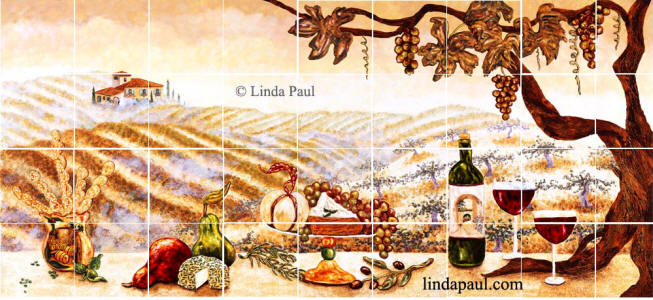 click picture to see larger image - copyright info will not appear on the mural that you purchase
we can add your name to the wine label (extra $100.00) see sample

Pricing & Online Shopping
4" x 4" tumbled stone tiles

6" x 6" tumbled stone tiles

the 30 x 12 is cropped a bit from the top see picture
the 48 x 24 a little is cropped off each side. see picture
the 78 x 36 a little is cropped off each side. see picture
the 84 x 36 a little is cropped off the top. see picture


Dimensions are given as length first, then height
A note on sizes: 4x4" marble tiles actually measure 3-7/8" and 6x6" marble tiles measure 5-7/8". The listed sizes allows for grouting. If you push the tiles tight together the murals will measure slightly less than the listed sizes. For example a 30" x 24" mural actually measures 29-3/8" x 23.5" if the tiles are placed tight together.
Custom Tile Murals: We can create a custom backsplash mural to fit your individual space. Just give us the length and height of the space you have for your mural, and we will email you a quote with pictures to show exactly what your mural will look like. We use either 4" x 4" or 6" x 6" tiles, so your measurements should fit dimensions using either of these tile sizes.

Shorter Versions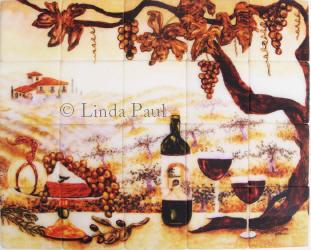 shows picture of actual mural
Version A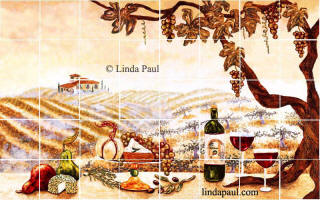 Version B click picture to see larger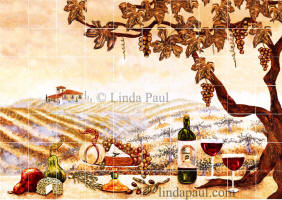 The Vineyard version C with extended sky and grape leaves.
This version works well where you need a taller splashback or if you are planning to cut some of the top off to fit an arch
click picture to see larger image
Don't know What Size to Order? If you are not sure which size of backsplash mural to order, just email us a straight on picture or design drawing of the space you have for your backsplash and we can tell you which is the best size for your space. Be sure to include all dimensions.
Wine Accent Tiles:
Accent tiles: 4" x 4" or 6" x 6" $40 each
| | | | | |
| --- | --- | --- | --- | --- |
| TV-1 Villa | TV-2 pears & cheese | TV-3 cheese & grapes | TV-4 two wine glasses | TV-5 wine glass & rose |
| | | | | |
| --- | --- | --- | --- | --- |
| TV-6 wine bottle & glasses | TV-7 Italian cheese | TV-8 grape vine | TV-9 red pear flower grapes | TV-10 grapes vine |
You can add a frame to any of our 4x4" or 6x6" accent tiles and hang them as wall art
buy frames
We can design the perfect backsplash mural just for you! Artist Linda Paul is an expert in designing her images to fit your space perfectly!
Tile sizes used for murals & backsplashes are:
4" x 4" or 6" x 6" (x 3/8") tumbled stone marble
Our murals ship in approx. 4 weeks, free shipping
you can expedite your order to ship in 2 weeks for an additional charge of $100.00 (see below)
accent tiles ship in two weeks (3 days if they are in stock)
see our in stock murals that ship in 3 days
Our 42" x 18 " Vineyard in customer's kitchen

customer comment: "Thought you might like to see where your mural ended up. Everyone that see's it just loves it. Thank you so much. " Tami and George Vardakas Ft. Wayne, IN
from Linda Paul Studio

Our 24" x 16 " Vineyard version B mural backsplash shown in a Chateau grape custom mosaic frame

Outer dimension of frame is 31" x 24". Inner dimension of frame is 23" x 16"
Price for 24" x 16" mural $399.00. frame is $1395.00

If you press the 24" x 16" Vineyard mural tiles tight together it actually measures 23-5/8" x 15-3/4", so you just have to cut a bit of the arch at the top and a smidgen of one side .
go to Chateau Grapevine mosaic tile frame
Vineyard Tile Mural installed in Brick Kitchen Niche


Love this backsplash installation of our 36" x 24" Vineyard backsplash installed in this recessed brick backsplash niche. The customer cut the top of the mural to fit the arch of the alcove backsplash


"We love our mural so much. The size fits perfectly under our hood and above our 60 inch Wolf range. Thanks for all your help" , Suzanne Knoll, Alamo TX

Just say WOW to this celebrity kitchen belonging to JWOWW
from Jersey Shore with Linda Paul's Vineyard mural backsplash. Love the cabinets at different heights, the green granite and beautiful light fixture. Mural size is 36" x 18"

Very pretty installation of our Vineyard mural set in gold travertine tile and framed in wood that matches the cabinets. There's a nice little grapevine detail on the cabinet below the cooktop.

Version A of The Vineyard with cream travertine tile border

Click pictures to see larger images

This is a beautiful installation . The border tiles around the mural help transition between the mural and the diagonal field tile

Check out this stunning installation in this custom wine cabinet.
| | | |
| --- | --- | --- |
| 36" x 24" Vineyard mural splash back with mosaic tile liner and Viking Hood and range. Fabulous! | Vineyard accent tiles inserted into 3x6 travertine subway tiles | Unique kitchen design with mosaic tile backsplash, our Vineyard mural and cream travertine border tile. Also notice the glass block backsplash detail and cabinet drawers |
| | | |
| --- | --- | --- |
| of an Italian inspired kitchen with our Vineyard kitchen mural and ivory marble border tile with 2x 4 cream marble subway tile backsplash | close up of mural for kitchen picture (left) The customer did not grout this mural, just placed the tiles tight together. The rest of the backsplash is grouted | Accent tiles from Tuscany Window and The Vineyard go very well together. The rest of the back splash tile is installed on the diagonal |

before and after pictures of mural installation


see more installation pictures of The Vineyard


Picture of custom wine cabinet /butler's pantry with our 56" x 24" Vineyard mural surrounded by our gold travertine 4x4" tile and gold travertine pencil border and also our copper grapes decorative accents



click photo to see larger image

"

Hi Linda, Just wanted to tell you how happy I am to have this beautiful mural in my kitchen - it definitely is the focal point! I've received so many compliments - from friends, family, and even my contractor who installed it. The details and vibrant colors are amazing. Thanks again for the lovely mural!

Best regards, Elizabeth"

Read reviews and comments from other customers who purchased a kitchen backsplash mural.

Picture shows The Vineyard size 28x12"
click picture to see larger image
double vine versions - special order
30" x 12" on 6x6" $399.00
48" x 18" on 6x6" $599.00
52" x 20" on 4x4" marble tile for $799.00
60" x 24" on 6x6" marble tiles for $999.00
on 4x4" marble tile
36" x 12" $399.00
48" x 16" $599.00
60" x 20" $839.00
on 6x6" marble tile
36" x 12" $399.00
54" x 18" $$699.00
double vine version - special order

48" x 12" on either 4x4 or 6x6" tiles $459.00
64" x 16" on 4x4" tile $719.00
you can expedite your order to ship in 2 weeks for an additional charge of $100.00
just click add to cart


email our tile design experts or call 1-800-936-9958 to order or inquire
toll free from USA, Canada, the Caribbean, Alaska or Hawaii
Our tumbled stone murals come with a satin finish.

Our tile murals are easy to clean with soap and water and are designed to be used as kitchen backsplashes & behind stoves & ranges.